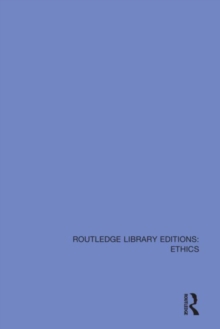 Common-Sense Morality and Consequentialism
Hardback
Description
Originally published in 1985 and now re-issued with a new preface, this study assesses the two major moral theories of ethical consequentialism and common-sense morality by means of mutual comparison and an attempt to elicit the implications and tendencies of each theory individually.
The author shows that criticisms and defences of common-sense morality and of consequentialism give inadequate characterizations of the dispute between them and thus at best provide incomplete rationales for either of these influential moral views.
Both theories face inherent difficulties, some familiar but others mentioned for the first time in this work.
The argument proceeds by reference to historical figures like Bentham, Ross and Sidgwick and to contemporary thinkers such as Williams, Nagel, Hare and Sen.
Information
Format: Hardback
Pages: 166 pages
Publisher: Taylor & Francis Ltd
Publication Date: 21/07/2020
Category: Ethics & moral philosophy
ISBN: 9780367502560