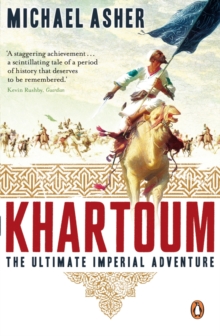 Khartoum : The Ultimate Imperial Adventure
Paperback
Description
The British campaign in the Sudan in Queen Victoria's reign is an epic tale of adventure more thrilling than any fiction.
The story begins with the massacre of the 11,000 strong Hicks Pasha column in 1883.
Sent to evacuate the country, British hero General Gordon was surrounded and murdered in Khartoum by an army of dervishes led by the Mahdi.
The relief mission arrived 2 days too late. The result was a national scandal that shocked the Queen and led to the fall of the British government.
Twelve years later it was the brilliant Herbert Kitchener who struck back.
Achieving the impossible he built a railway across the desert to transport his troops to the final devastating confrontation at Omdurman in 1898.
Desert explorer and author Michael Asher has reconstructed this classic tale in vivid detail.
Having covered every inch of the ground and examined all eyewitness reports, he brings to bear new evidence questioning several accepted aspects of the story.
The result is an account that sheds new light on the most riveting tale of honour, courage, revenge and savagery of late Victorian times.
Information
Format: Paperback
Pages: 512 pages
Publisher: Penguin Books Ltd
Publication Date: 02/11/2006
Category: Asian history
ISBN: 9780140258554
Free Home Delivery
on all orders
Pick up orders
from local bookshops
Reviews
Showing 1 - 2 of 2 reviews.
Review by iamthenewno2
16/06/2015
A well written, informative and in many places better than fiction.I have a passion for historical books but often find that many can read like school text books, not in this case though. The characters are well researched and fleshed out, you do care about what happens to them and in the end hope that they get there/get out in time.If you have any interest in this period of history or just want to find out the truth behind the movie read this book.
Review by johnthefireman
16/06/2015
A very readable history of the Mahdist period of Sudan, albeit written from the British point of view.Asher knows Sudan and the Sudanese, as well as deserts, camels and the military, and is able to write with colour and insight.He is very generous to those British officers whom he admires, but equally critical of the officer class in general. His warmest praise is reserved for the ordinary British soldiers - and their Sudanese and Egyptian allies under British officers and British training.The beginning and end almost let the book down. I almost stopped reading it when I found 'screaming dervishes' on the second page. At the very end, perhaps in an attempt to make it relevant to today's post-9/11 world, he makes a couple of errors. Ja'afar Nimairi's regime was overthrown by intifada (popular uprising) in 1985, not by a coup in 1989. The 1989 coup overthrew the democratically elected government of Sadiq al-Mahdi, so it is unlikely that he was 'the power behind the coup', as Asher claims. Asher also states that Osama bin Laden made his home in Sudan from 1994 to 1998. I am ready to be corrected, but I believe he arrived earlier than that and left in 1996. Small but significant errors.And the maps... I have rarely found a book that gives maps in the detail which I would like, and which show every single place mentioned in the text. These maps are no exception.