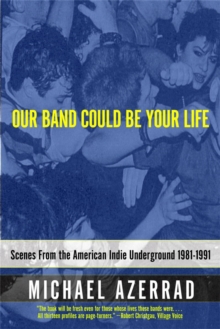 Our Band Could Be Your Life : Scenes from the American Indie Underground
Paperback
Description
Finally in paperback, the story of the musical revolution that happened right under the nose of the Reagan Eighties - when a small but sprawling network of bands, labels, fanzines, radio stations and other subversives re-energised American rock with punk rock's d-I-y credo and created music that was deeply personal, often brilliant, always challenging and immensely influential. OUR BAND COULD BE YOUR LIFE is a sweeping chronicle of music, politics, drugs, fear, loathing and faith that is already being recognized as an indie rock classic in its own right.Among the legendary bands featured are: Black Flag, the Minutement, Mission of Burma, Minor Threat, Husker Du, the Replacements, Sonic Youth, Butthole Surfers, Big Black, Dinosaur Jr., Fugazi, Mudhoney and Beat Happening.
Information
Format: Paperback
Pages: 528 pages
Publisher: Little, Brown & Company
Publication Date: 02/07/2002
Category: Punk, New Wave & Indie
ISBN: 9780316787536
Free Home Delivery
on all orders
Pick up orders
from local bookshops
Reviews
Showing 1 - 5 of 5 reviews.
Review by smurfwreck
16/06/2015
Our Ban Could Be Your Life (taken from a lyric in a Minutemen song) chronicls the independent music movement in post punk america by following 13 bands through the 80's and 90's. The bands profiled are Black Flag, Husker Du, Minutemen, Minor Threat, Fugazi, Mission of Burma, the Replacements, Butthole Surfers, Sonic Youth, Beat Happening, Big Black, Mudhoney, and Dinosaur Jr. The book is broken up by band into chapters and is loosely chronological. I'm sort of divided in how I feel about the book. On the one hand it conveys a pretty good sense of what it was like in the indie underground, the bridge between Punk and the Alternative boom of the 90's. On the other, it seems like it gets mired in it's stylistic template and it comes off like Azerrad is trying to hard to write two books in one. Whereas each chapter profiles a band, he often strays from the profile into talking about the movement as a whole losing site of the band in question. This was especially frustrating in the chapters on Mudhoney (which should really be a chapter on the Sub Pop label) and Beat Happening (which should really be on the K label.) Both bands seemed to be only skimmed in favor of talking about the region of music that spawned them or their label mates, while interesting doesn't do much of a service to the band and points to the overall topic as being a bit to wide reaching to fit into the specific template Azerrad chose to use.Earlier in the book this works to great effect while spreading out the SST bands and illustrating how they intereacted and effected the scene (Minutemen, Black Flag, Husker Du.)I think the book would have been better served to focus on the various labels using bits of band history as emphasis, insteadof short changing the bands.The other issue I had was with Azerrad's inconsistancies in his descriptions of bands. Pretty much every band profiled was the best band in the world in their own chapter, while when mentioned in another chapter they might come off as inconsequential. In fact, every band appearently had the most important record of the decade.Even though I seem to be harping on the book, I really do feel that it is an important look at a very interesting time in independent music, I just think it's hampered by a poor stylistic choice.
Review by mikeandsarahlibrary
16/06/2015
Azerrad's book is a fantastic intro to American indie rock of the 1980s. Full of anecdotes, gossip, and band histories, this is an informative and entertaining read that pokes holes in all those narratives about Nirvana ushering in indie and punk rock in the 90s. However, all his talk about the emancipatory politics of DIY gets quite tiresome and reduces the complexity of indie rock into a simple case of 'us' (i.e. cultured, hip, and cool indie) vs. 'them' (uncouth, square, and corporate mainstream rock). Still a good read though.
Review by EdVonBlue
16/06/2015
A great book, definately a must for anyone that wants to hear the war stories of American Underground Rock. I also like the fact that Azerrad just deals with American bands from that time. I was a DJ at the college radio station at Western Illinois University in the late 80s and it was like anything British was considered Underground, The Smiths, The Cure, Soup Dragons (scottish actually). But none of these bands came up from the DIY ethic unlike the bands in Azerrad's book. That DIY ethic is really the center of much of the drama in the book.
Review by augiegus
16/06/2015
A decent book which does a broad overview of some of the bands of the era. I would of liked a few other bands added namely the Feelies but what can you do? It was interesting to read how several of these independent labels functioned and how the bands toured throughout the book. The chapters on Minor Threat and the Minutemen were the most enlightening but I also believe the various members were the most enlightened so as with all tastes one can be biased.
Review by bibliosk8er
16/06/2015
Really great book about these bands. If you like punk rock, you need to read this. The chapter on Black Flag is particularly awesome.
Also by Michael Azerrad