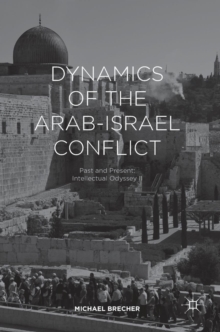 Dynamics of the Arab-Israel Conflict : Past and Present: Intellectual Odyssey II
Hardback
Description
This book comprises findings from the author's wide-ranging research since 1948 on the unresolved Arab/Israel protracted conflict.
Brecher reflects back on his detailed analysis of the UN Commission created in November 1947, and his near-seven decades of research and publications on this complex protracted conflict continued since the first of nine Arab/Israeli wars.
The book includes an analysis of the crucial early phase of the unresolved struggle for control of Jerusalem in 1948-49 and beyond, based on extensive interviews with Israel's leaders and prominent Egyptian senior officials, journalists and academics.
It addresses the many diverse attempts at conflict resolution, including a peace plan to resolve the Arab/Israel conflict of the author's own design.
It concludes with historical reflections about Israel's behavior, domestically and externally, in 1948-1949 and 2008 and beyond.
No other book on this protracted conflict contains so many important interviews with the first two generations of Israeli leaders and Egyptian officials and academics, and no other author can speak from such a deep and prolonged engagement.
Information
Format: Hardback
Pages: 410 pages, XIX, 410 p.
Publisher: Springer International Publishing AG
Publication Date: 01/02/2017
Category: Middle Eastern history
ISBN: 9783319475745
Other Formats
EPUB from £20.39
Paperback / softback from £21.75