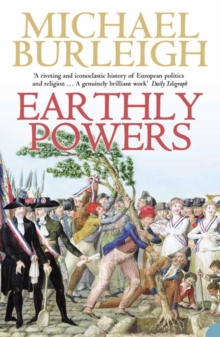 Earthly Powers : The Conflict Between Religion & Politics from the French Revolution to the Great War
Paperback / softback
Description
A major work setting out the inextricable link between politics and religion over the past two centuries, from the French Revolution to the present day's War on Terror. In this dazzling and hugely relevant book Michael Burleigh explores the way in which religion, broadly construed, functions within European societies. `Earthly Powers' is an examination of the politics of religion and the religion of politics in Europe from the French Revolution until the Great War.
Its astonishing scope encompasses the philosophers of the Enlightenment and the influence of thinkers like de Maistre and de Bonald and Lamennais, as well as the pseudo-religious aspects of Marxism.
It looks at painters like Zoffany and David and analyses their representations of their times.
It considers the exploits of O'Connell, hero of Catholic Emancipation, Mazzini, Mickiewicz and Garibaldi, and goes via nineteenth century English and Russian literature, to the epic struggles between Church and State, industry and the rise of Christian socialism.
It concludes with the advent of the `old stone gods' that heralded the totalitarian political religions of the 20th-century. Throughout, Burleigh's writing is never less than brilliant and absorbing, handling a welter of ideas and historical detail with confidence, verve and sophistication.
He is always revealing and original, showing us the deeper workings of history in a way we have never seen before.
It confirms him as one of Europe's greatest modern historians.
Information
Format: Paperback / softback
Pages: 576 pages
Publisher: HarperCollins Publishers
Publication Date: 02/10/2006
Category: European history
ISBN: 9780007195732
Free Home Delivery
on all orders
Pick up orders
from local bookshops