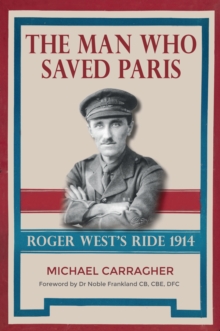 The Man Who Saved Paris : Roger West's Ride
Paperback / softback
Description
A vivid account of the opening weeks of war by avolunteer despatch rider who may have prevented aswift German victory. Of Anglo-German stock, Roger West was conflictedwhen the war broke out but volunteered out of thestrong sense of duty that was characteristic of his class. His linguistic skills led to his being commissionedinto the Intelligence Corps but he was seconded asa despatch rider to the 19th Brigade, which bore agreat brunt of the fighting in the first few weeks in1914.
West was in the thick of things despite beingcrippled with a badly-damaged foot, often ridinground the clock, delivering despatches and directingand assisting soldiers separated from their units anddisoriented stragglers.
Discovering that a criticalbridge had been left open to the German advance hevolunteered to ride back and blow it up, preventingthe retreating Fifth French Army from being takenin the flank, something that could have fulfilled theSchlieffen Plan's aims and won the war for Germany.
Information
Format: Paperback / softback
Pages: 238 pages, Illustrations, unspecified
Publisher: Unicorn Publishing Group
Publication Date: 15/12/2017
Category: First World War
ISBN: 9781908487056
Also by Michael Carragher