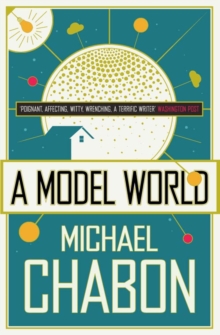 Description
In this compelling collection of short stories, bestselling author Michael Chabon explores adolescent desire, love, friendship and fatherhood, moving subtly and incisively across this powerful emotional ground.Wry and whimsical, but also with intellectual depth, A MODEL WORLD is a collection of eleven wonderful stories about growing up and growing wise.In `S Angel' a group of wedding guests is hijacked by a fast-talking real estate agent, but not before the bride herself disappears. `Smoke' takes us to a baseball catcher's funeral, where one of the mourners - a has-been pitcher - confronts the ruins of his career.
In the hilarious title story, a graduate student plagiarizes a dissertation on the movement of clouds, only to find himself and his faculty advisor in a parlour game where each player must confess the worst thing he or she has ever done.
The second part of the book, `The Lost World', is a series of stories about a young boy, Nathan Shapiro, who must face the wrenching emotions caused by his parents' bitter divorce.Serious, yet shot through with wit, humour and compassion, these are unforgettable stories from one of America's most celebrated writers.
Information
Format: Paperback
Pages: 208 pages
Publisher: HarperCollins Publishers
Publication Date: 03/03/2008
Category: Short stories
ISBN: 9781841153629
Free Home Delivery
on all orders
Pick up orders
from local bookshops
Reviews
Showing 1 - 5 of 5 reviews.
Review by phoebesmum
16/06/2015
A short story collection; the first six are standalones, building on themes of adolescence, relationships, ethics and disillusionment, whilst the final five focus on the elder son of a family on the brink, and then in the process, of divorce and examine his feelings and its effect on him. Awkwardness and discomfort are among the main themes. A lot like life, then.
Review by edgeworth
16/06/2015
I've mentioned before that Michael Chabon is a writer I greatly respect, not just for penning one of my favourite novels of all time (Kavalier &amp; Clay), but also for being a literary heavyweight determined to restore the good name of genre fiction: someone decrying "the contemporary, quotidian, plotless, moment-of-truth revelatory story." I fucking hate those stories."A Model World" is a collection of precisely those kinds of stories, drawn from the very early years of Chabon's career, before he was... <i>cleansed.</i> They are, of course, brimming with beautiful prose and perfect turns of phrase, because he is Michael Chabon. Yet they're also pointless. Forgettable. Unremarkable. They may inspire emotions, but like emotions themselves, they quickly fade away. They are, to use another of his quotes I delight in, "sparkling with epiphanic dew." Which evaporates.If you're going to read that kind of story you could probably do worse, mind you. There are a couple of good ones in here. The final five all follow the same character, Nathan Shapiro, through a predictable bildungsroman; sort of like Hemingway's Nick Adams but with less manliness and more existential melancholy (or did Nick do that a lot too?) It's quite banal, but because it's done by Chabon it's not a complete waste of your time. Sort of like how Shutter Island was a typical psychological thriller, but much better than usual because it was directed by Martin Scorsese. Except Shutter Island was much better than "A Model World," but you get what I mean.In any case, I only have to muck about in the fetid slop of Chabon's early career long enough to read "The Mysteries of Pittsburgh" and "Werewolves In Their Youth." Then it's rocketing back into his awesome post-2000 work, with epic World War II adventures and Sherlock Holmes and alternate dimension homicide detectives and all that jazz. That's gonna be awesome. Having said that, Mike, I GET THAT YOU ARE JEWISH! I REALLY, REALLY DO! NOW WILL YOU PLEASE STOP WRITING ABOUT IT OVER AND OVER AND OVER AGAIN!
Review by timoroso
16/06/2015
Great writers do not always have a lot to say. The stories in this collection are mostly somewhat pointless, but as such they are still well written.
Review by patrickgarson
16/06/2015
A Model World marks Michael Chabon's first work. Whilst this collection of short stories lacks the strength of his best novels, and his later collection, Werewolves in Their Youth, there are nonetheless a few treasures glinting in there for the discerning reader.These stories are all concerned with loss or missed expectations, typically based around young men. As a beginning writer, Chabon understood that the easiest way to gather an emotional punch in a short story is through an elegiac, melancholy tone. This does lead to him dodging the rigorous narrative requirements of a truly excellent short story (demands well and truly met in his subsequent collection). Nonetheless, Chabon - even in his twenties - was an excellent writer, and this collection demonstrates that. Beautiful prose combines the best aspects of brevity and lyricism, married to a true gift for off-the-cuff characterisation. Chabon peppers his characters with incidental biographical detail that is both fascinating and utterly believable. These stories of young men on the precipice of irrevocably growing up remind me nothing so much of young F. Scott Fitzgerald's short stories, with all their strengths and weaknesses. I don't think A Model World is a good introduction for readers new to Chabon - its offerings are too slight to win any converts. However, Chabon is one of America's best writers, and it's still worthwhile read, especially for fans.The book stands quietly in the corner on it own merits, but there is an added bonus in seeing the young writer that would grow - irrevocably - old with such panache.
Review by rlangston
27/08/2015
A very good writer, but only the final part (where the stories were linked) allowed his characterisation to really come through.