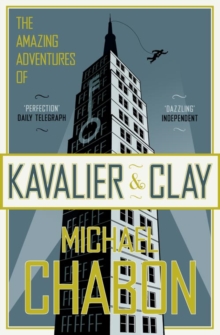 The Amazing Adventures of Kavalier and Clay
Paperback
Description
Winner of the 2001 Pulitzer Prize for Fiction, `The Amazing Adventures of Kavalier & Clay' is a heart-wrenching story of escape, love and comic-book heroes set in Prague, New York and the Arctic - from the author of `Wonder Boys'.One night in 1939, Josef Kavalier shuffles into his cousin Sam Clay's cramped New York bedroom, his nerve-racking escape from Prague finally achieved.
Little does he realise that this is the beginning of an extraordinary friendship and even more fruitful business partnership.
Together, they create a comic strip called `The Escapist', its superhero a Nazi-busting saviour who liberates the oppressed around the world. `The Escapist' makes their fortune, but Joe can think of only one thing: how can he effect a real-life escape, and free his family from the tyranny of Hitler?Michael Chabon's exceptional novel is a thrilling tight-rope walk between high comedy and bitter tragedy, and confirms his position as one of the most inventive and daring of contemporary American writers.
In Joe Kavalier and Sam Clay, he has created two unforgettable characters bound together by love, family and cartoons.
Information
Format: Paperback
Pages: 656 pages
Publisher: HarperCollins Publishers
Publication Date: 02/07/2001
ISBN: 9781841154930
Free Home Delivery
on all orders
Pick up orders
from local bookshops
Reviews
Showing 1 - 5 of 24 reviews.
Previous | Next
Review by alarra_c
16/06/2015
As good as everybody made it out to be; I started reading it as soon as my last exam finished and stayed up to 3am to finish it. It's a wonderful epic of a friendship, a passion for comics, a talent for escapism and love that never dies.
Review by Calico
16/06/2015
Excellent; as good as everyone says. There's a magazine in the UK (Word) that in every issue asks the famous and not-so what their recommendations for music, books and so on are - this book kept on popping up, and so eventually I bought it.The John Irving comparison that another reviewer makes is good: both writers seem to have the knack of magic realism without the magic. Magical realism, perhaps.
Review by pamplemousse
16/06/2015
Joe Kavalier is a young man living in Prague at the start of the Nazi occupation. He has been learning the art of escapology, but given up after an unfortunate incident in the frozen Danube. His parents send him to America to escape the troubles, where he hopes to earn enough to bring his younger brother and family to join him. In New York, he meets his cousin Sammy Clay, who dreams of being a comic book artist. Joe turns out to be a genius at comic book art, and so they launch together on a career in comics. Thus the story proceeds through the 40's and 50's, and Chabon uses the story to dissect the American way of life in this era. At his best, Chabon is a brilliant story-teller, with sometimes one or two chapters able to stand alone as beautifully written vignettes, somewhat reminiscent of Damon Runyon. At other times, Chabon is a sesquipedalian blow-hard who writes in an overly dense post-modernist style which his editor should have excised. However, these passages are mercifully few and can be glossed over without detriment to the story, which overall is a rollicking good adventure through two decades of American popular culture, as well as a fine psychological study of one man's coming to terms with life.
Review by lucasmurtinho
16/06/2015
Great book, althought the ending was a bit disappointing (is it me, or did Chabon just got tired of it all and stopped in the middle of the story?). Still, a passionate look at the birth of the modern comic industry, and a heartbreaking take on the consequences of war on the lives of common people.
Review by defrog
16/06/2015
This has to be one of the best books I've read in I don't know how long. It's about two cousins who invent a comic book character in 1939, right around the time that comics are just starting to take off, and their subsequent ups and downs, driven in no small part by the fact that one of them is a Jewish refugee from Prague who is desperate to get his family out of the country as well. A brilliant mix of fact and fiction, with plenty of real comic-book history that comics fans will dig, and not a little rumination on the role of comic books in society. If I had to make a list of Top Ten Books I Read In 2006, this would be No. 1.