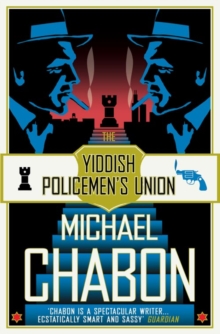 The Yiddish Policemen's Union
Paperback
Description
The brilliantly original new novel from Michael Chabon, author of THE ADVENTURES OF KAVALIER & CLAY and WONDER BOYS.What if, as Franklin Roosevelt once proposed, Alaska - and not Israel - had become the homeland for the Jews after the Second World War?
In Michael Chabon's Yiddish-speaking `Alyeska', Orthodox gangs in side-curls and knee breeches roam the streets of Sitka, where Detective Meyer Landsman discovers the corpse of a heroin-addled chess prodigy in the flophouse Meyer calls home.
Marionette strings stretch back to the hands of charismatic Rebbe Gold, leader of a sect that seems to have drawn its mission statement from the Cosa Nostra.
Meyer is determined to unsnarl the meaning behind the murder.
Even if that means surrendering his badge and his dignity to the chief of Sitka's homicide unit - his fearsome ex-wife Bina.A novel of colossal ambition and heart, THE YIDDISH POLICEMEN'S UNION interweaves a homage to the stylish menace of 1940s film noir with a bittersweet fable of identity, home and faith.
Information
Format: Paperback
Pages: 432 pages
Publisher: HarperCollins Publishers
Publication Date: 03/03/2008
ISBN: 9780007150939
Free Home Delivery
on all orders
Pick up orders
from local bookshops
Reviews
Showing 1 - 5 of 10 reviews.
Previous | Next
Review by phoebesmum
16/06/2015
A fascinating experimental A/U noir set in a world where the settlement of Israel failed, but a part of Alaska became the Jewish state instead. Inventive and gripping, but … I do feel a glossary might have helped.
Review by edgeworth
16/06/2015
In 1940, when World War II was still nothing more than a distant brouhaha to the Americans, the U.S. government considered opening up Alaskan settlement to displaced European Jews. The proposal was killed in Congress, largely due to Anthony Dimond, Alaskan delegate to the House of Represenatives and a major opponent of the program for financial reasons (officially) and anti-Semitic reasons (allegedly).In Michael Chabon's The Yiddish Policeman's Union, Dimond is killed in a car accident before the bill can be overturned, and a section of Baranhof Island in the Alaskan panhandle is opened up to Jewish settlement. History is tweaked; Jews flock to Alaska, less remain in Europe, the Nazis therefore spend less effort on killing them than they do in fighting the war, the war drags on for longer, and the 1948 Israeli independence movement is unsuccessful. The U.S. District of Sitka becomes the international Jewish homeland; cold, distant and as bitter as the Diaspora itself.And so this is an alternate history novel: science fiction, in keeping with Chabon's recent desire to experiment with genre fiction. But it's also a detective novel, in which alcoholic homicide detective Myer Landsman must solve the execution-style murder of one of his junkie neighbours in the seedy hotel he calls home. Naturally this leads him on a noirish investigation into the dark heart of Sitka, the Hasidic Jews and their organised crime, his chess-addicted former espionage director uncle, the mysterious connections and conspiracies, the men in suits from the U.S. government. This takes place in late 2007, shortly before the "Reversion" on New Year's Day 2008: the return of Sitka to U.S. territory, leaving a teeming city of Jews with nowhere to go.Chabon's style is, as usual, heavily reliant on visual metaphors. I have no issue with this (it is, in fact, my favourite style of writing) but it's strange to see it applied to a detective novel. And in fact I'm not sure if that's what this is. So many genres are blended in this book that Chabon sometimes seems to lose sight of them. The detective cliches come down thick and fast for the first few chapters, before drifting off as Chabon focuses on his usual heavy themes of literary fiction. It's a great book, certainly five stars, but it just seems a lot less sure about itself than The Amazing Adventures of Kavalier & Clay was. Granted, Kavalier & Clay was Pulitzer material which I personally consider to to be the greatest novel written in the last ten years. So The Yiddish Policeman's Union, while it can't measure up to its heavier older brother, is nonetheless a great read that I can reccomend to pretty much anybody, provided they're willing to struggle through Chabon's complex prose for the rewards that lie on the other side.It also won the Nebula Award and the Hugo Award for best science fiction novel, which I think is a lot like sending David Beckham to play a game of soccer with a group of 12-year old kids and then giving him the award for best player.
Review by sarah_rubyred
16/06/2015
A great read, Chabon has again immersed himself in a subject and been able to regurgitate what he has created without making it feel like a wiki article. Books like this will always be enjoyable as they have a somewhat predictable yet decent storyline that becomes a bestseller because of the original setting.
Review by PIER50
16/06/2015
I wanted to read this and managed 111 pages, but found it hard going as there so many Yiddish refereces I did not understand. A shame because I can see it is well written.
Review by clfisha
16/06/2015
Another book with many many reviews so I won't recap the plot. Overall I enjoyed this book but then I have a soft spot for noir. All the genres tropes are there but well done plus its all enhanced by its alternative history setting and hint of the supernatural. In places this books soars and I couldn't tear myself away but its bookended by a slowish (but enjoyable) start and an average ending.