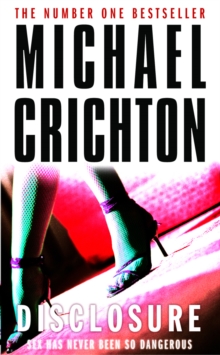 Description
The thriller that opened a new chapter in the sex wars ...Thomas Sanders' world collapses in just 24 hours - he is passed over for promotion, his new woman boss comes on to him during a drink after work, then, the next morning, he learns that she has accused him of sexually harassing her.
She demands his transfer, thereby threatening to cut him off from the millions he would have made when his high-tech company was floated on the stock market.
What follow next made Disclosure the most talked about novel of the decade.
Information
Format: Paperback
Pages: 464 pages
Publisher: Cornerstone
Publication Date: 03/01/1998
ISBN: 9780099303749
Free Home Delivery
on all orders
Pick up orders
from local bookshops
Reviews
Showing 1 - 3 of 3 reviews.
Review by nbmars
16/06/2015
In State of Fear, Michael Crichton does a fine job of weaving intellectual discussion of global warming into the story line. I had hoped for a similar treatment of gender discrimination in employment to appear in Disclosure. I was disappointed--or I should say I was so disappointed in every respect by the first 57 pages (which took about 20 minutes to read) that I elected not finish the book. By page 57 the author had introduced about 15 characters, none of whom sparked any interest, and all of whom spoke to each other in trite businessese, like newly-minted MBA's from lesser schools on their first job. The book was written in 1993. It covers the high tech electronics industry of Seattle and the Bay area. The technology described, the novelty of which may have helped carry the narrative in 1993, seems pedestrian today, and so adds no zing or flare for a reader in 2007.Most disappointing was the caliber of the writing, which was far below the author's standard. Interestingly, Crichton employs more profanity in this book than usual, perhaps in an effort to bring zest to numbingly dull discourse.Fortunately, I bought the book at a sale at the Los Alamos Library for only $.50, so I don't feel I was robbed. (JAB)
Review by abitmorejerry
16/06/2015
Interesting story about harassment in the workplace during a corporate takeover. It's amazing to compare how attitudes have shifted in the 16 years since the book was published. This book is, if remotely true (and it is based upon a true story) a reminder of how attitudes are shifting quite dramatically within a few years. Its also really interesting to hear the views and predictions on technology at the time.An interesting aside to the story is that the company doing the takeover is a print/publishing company while the company being bought out is a high-tech company. Remarkable coincidence for me as I had no idea when I picked the book up.The book was a real page turner, even if a little predictable. Worth reading despite how dated it has become within a short time.
Review by Anagarika-Sean
16/06/2015
Good story and plot. A great read.