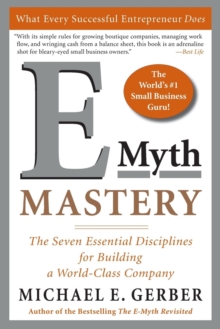 E-Myth Mastery : The Seven Essential Disciplines for Building a World-Class Company
Paperback / softback
Description
Building on the phenomenal success of "The E-Myth Revisited", best-selling author Michael Gerber presents the next step in his program, "E-Myth Mastery".
A practical, real-world program that is implemented real-time into your business, Gerber teaches the listener to understand why the entrepreneur is so critical to the success of any enterprise, no matter how small or large, and why the mindset of an entrepreneur is so integral to the operating reality of an organization, small business, or other enterprise.
He then covers seven essential skills: Leadership, Marketing, Money, Management, Lead Conversion, Lead Generation and Client Fulfilment.
In each, Gerber explains the principles to be learned, and he provides case studies and examples.
Gerber ties it all together by helping listeners put the pieces together in an E-Myth Business, an E-Myth Practice and an E-Myth Enterprise.
Information
Format: Paperback / softback
Pages: 464 pages
Publisher: HarperCollins Publishers Inc
Publication Date: 01/02/2007
Category: Entrepreneurship
ISBN: 9780060723231