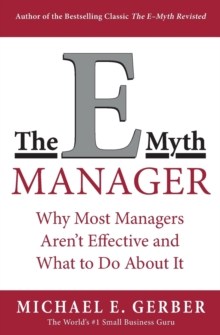 The E-Myth Manager : Why Most Managers Don't Work and What to Do About It
Paperback
Description
More than ten years after his first bestselling book, The E-Myth, changed the lives of hundreds of thousands of small business owners, Michael Gerber椮trepreneur, author, and speaker extraordinaire楩res the next salvo in his highly successful E-Myth Revolution.
Drawing on lessons learned from working with more than 15,000 small, medium-sized, and very large organisations, Gerber has discovered the truth behind why management doesn't work and what to do about it.
Unearthing the arbitrary origins of commonly held doctrines such as the omniscience of leader (Emperor) and the most widely embraced myth of all� �e E-Myth Manager offers a fresh, provocative alternative to management as we know it.
It explores why every manager must take charge of his own life, reconcile his own personal vision with that of the organisation, and develop an entrepreneurial mind-set to achieve true success.
Free Home Delivery
on all orders
Pick up orders
from local bookshops
Reviews
Showing 1 - 1 of 1 reviews.
Review by jpsnow
16/06/2015
This author puts down the constant siege of management trends built on buzzwords and oversimplified concepts. Then he proceeds to put forth his own version of the same. However, he does rely more on principle and makes some interesting points on the way. Foremost among them is that a good manager starts with asking the question "What do I want?" The wisdom behind this is derived from his original "e-myth" that successful companies are not based on an entrepeneurial culture but instead on one person's vision. Hence, a good manager should be working as the emporer of their own vision. This does not necessitate owning a separate business as long as the employment relationship allows for molding of a role into that which satisfies the vision of the manager. According to Gerber, each person must recognize and affect how much they concentrate on each vital role: emporer, manager, and technician. Two other important steps (among several put forth) are creating a marketing and financial plan. The financial plan should put every employee in touch with the type of decision making one makes with real budgets and money. It was also interesting to see yet another work by a local author, complete with references to Marin General, Corte Madera, Sonoma, and Petaluma.