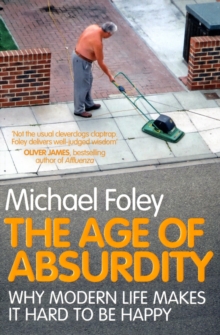 The Age of Absurdity : Why Modern Life makes it Hard to be Happy
Paperback
Description
The good news is that the great thinkers from history have proposed the same strategies for happiness and fulfilment.
The bad news is that these turn out to be the very things most discouraged by contemporary culture.
This knotty dilemma is the subject of TheAge ofAbsurdity- a wry and accessible investigation into how the desirable states of wellbeing and satisfaction are constantly undermined by modern life. Michael Foley examines the elusive condition of happiness common to philosophy, spiritual teachings and contemporary psychology, then shows how these are becoming increasingly difficult to apply in a world of high expectations.
The common challenges of earning a living, maintaining a relationship and ageing are becoming battlegrounds of existential angst and self-loathing in a culture that demands conspicuous consumption, high-octane partnerships and perpetual youth.
In conclusion, rather than denouncing and rejecting the age, Foley presents an entertaining strategy of not just accepting but embracing today's world - finding happiness in its absurdity.
Information
Format: Paperback
Pages: 272 pages
Publisher: Simon & Schuster Ltd
Publication Date: 03/02/2011
Category: Popular philosophy
ISBN: 9781847396273
Free Home Delivery
on all orders
Pick up orders
from local bookshops
Reviews
Showing 1 - 3 of 3 reviews.
Review by Booksloth
16/06/2015
I loved this book. In direct contrast to a world in which infantilism and the 'victim mindset' seem to be the order of the day, it is a grown-up take on life and a timely reminder that the more we have in this world - and, in particular, the more <i>choices</i> we have, the less satisfying our lives become. Foley posits the theory that true happiness can only be achieved through taking responsibility for our own lives, including our own mistakes, and in accepting that suffering is an unavoidable and, indeed, a crucial part of our search for happiness.Not only does the book present a worthwhile thesis, it is also written in an entertaining and humorous style that never lapses into puerility. And, to be honest, any book that contains the sentence "one minute you're being delightfully spanked with a silk slipper and the next minute you're having your scrotum nailed to the floor" gets my vote every time.
Review by GerardMDoyle
16/06/2015
This is a sharp, witty, highly intelligent and really quite brilliant book. Foley reminds us that our yearning for authenticity is not found only in novelty--a new place, a new lover, a new job: "More effective is to see the familiar with new eyes . . . to smash the crust of habit and see life anew." He exhorts us to "begin a new job in your current post, enjoy a holiday where you actually live, and most thrillingly, plunge into a tumultuous affair with your own spouse." (139) The book is full of nuggets of learned information and wonderful quotes such as "understanding is itself transformation" (24). It is packed with impressive research into psychology and a review of the broad sweep of philosophy from the Stoics to Rousseau with Camus and the Buddha in between and beyond. The style is easy flowing, lucid and full of distilled and simple but profound wisdom. Ideal for scholars, searchers and interested readers. This will become a classic.
Review by anna_acoria
16/06/2015
Very good book about the everyday absurdity of life with references to a wide range of philosophical sources!