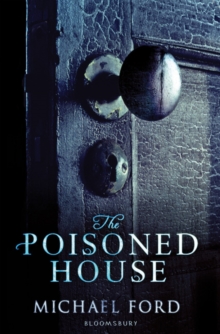 The Poisoned House
Paperback
Description
Abigail is a maidservant in Greave Hall, an elegant London household governed by the tyrannical housekeeper, Mrs Cotton.
Whilst the widowed master slips slowly into madness, Mrs Cotton gradually usurps the position of gentlewoman of the house.
She wears his dead wife's jewellery and clothes, entertains guests as though the house is her own and reserves her most despotic treatment for Abi.
In the dead of night, Abi makes a desperate bid for freedom, but is soon captured and returned to Greave Hall.
As Mrs Cotton's malice intensifies, a ghostly presence distracts Abi with clues to a deadly secret. And Abi now realises that she can trust no one in the house.
Information
Format: Paperback
Pages: 288 pages
Publisher: Bloomsbury Publishing PLC
Publication Date: 02/08/2010
Category: General
ISBN: 9781408804506
Free Home Delivery
on all orders
Pick up orders
from local bookshops
Reviews
Showing 1 - 5 of 5 reviews.
Review by JessicaLouise23
16/06/2015
I had this book sent to me from Bloomsbury to review a week or so ago and I was immediately excited to read it. The cover intrigued me and the synopsis sounded right up my street so I moved it up to the top of my To Be Read pile and picked it up this weekend when it was rather miserable and rainy and I fancied a creepy historical fiction novel and I was very pleasantly surprised by this book.Having never read anything by Michael Ford before I wasn't really sure what to expect with this but I loved it! Right from the start you can tell that Ford is an excellent story teller. You're immediately transported into 18th century London so much so that you can very nearly smell the stench of the streets of London wafting off the pages. The story starts when Abi an orphaned servant at the brooding and dark Greave Hall runs away. She's desperate to escape the crutches of sadistic housekeeper Mrs Cotton and her harsh lifestyle there. Soon after escaping, Abi is caught and brought back to Greave Hall and things start going from bad to worse. The widowed master of the house Lord Greave is slipping slowly into madness, leaving Mrs Cotton his dead wife's sister to take advantage of her position and adopt the role of Mistress of the house wearing her sisters jewellery and entertaining guests. As Mrs Cotton's malice intensifies odd things start happening around the house. It seems as though a ghostly presence is trying to get Abi to leave Greave Hall for good and reveal that the house and the people within it are hiding terrible secrets, ones that may cost Abi her very life.I find that ghost stories can be very hit or miss. If you do it right it can be excellent if you do it wrong it can be disastrous and Michael Ford definitely gets it right with The Poisoned House. It reminded me very much of a sort of Rebecca for teens with a supernatural twist. It has all of the things that make Rebecca the wonderful classic that it is. The big brooding house, mystery, a malicious housekeeper, a grieving widower, suspense and death. I found myself turning the pages just as desperate to discover the secrets of the house as much as Abi. There's always something exciting going on that makes you keep reading and reading. Michael ford definitely has himself a new fan and I hope he writes more historical fiction in the future as he truly does excel at it. The only reason I couldn't quiet give this the full top marks is because for me the book was a tad short. I would have liked more time with the characters and for them to have been a little more developed. If you're looking for a suspenseful, gothic, quick read then your sure to love this. Thank you for sending it to me for review Bloomsbury it's now become one of my favourite books of the year! 4 stars.
Review by susiesharp
16/06/2015
Young Abi is an orphaned servant girl in the house of Lord Greave, the head of the household staff Mrs. Cotton, is the sister of the late lady of the house who rules with an iron fist. It has been a year since Abi lost her mother who was nurse/governess to Lord Greave's son Samuel, Abi and Samuel grew up together and were closer than master & servant should be. In the year since her mother died Lord Greave has been slowly losing his mind and Samuel went off to war and came back injured. The worst thing is that Abi is seeing the ghost of her mother but what is she trying to tell her.I really enjoyed this book it was hard to put down; it had just the right amount of spookiness and mystery. The build up to the reveal was great and what you think is going on is actually quite different then you are led to believe. The whole atmosphere of the story really took you back to 1856 Victorian England, the big house with its ghosts plus a little upstairs/downstairs. Abi was a great character as were the rest of the household staff I ended up really liking them and thought the postscript was a great touch!If you like Victorian gothic with ghosts give this book a try!I received this book from netgalley.4 stars
Review by lilibrarian
16/06/2015
Abby is an orphan - her mother died the year before. She lives as a servant in the house where she was raised, her mother having been nurse of Lord Greave's son, Samuel. The housekeeper is cruel to her, and she awaits Samuel's return from the Crimean War to ease her life. Strange things begin happening in the house, and she realizes that her late mother was murdered and is trying to warn her of something.
Review by tammydotts
16/06/2015
London in the mid 1850s. A manor house governed by a stern housekeeper while the Lord of the house slowly goes mad. A soldier who loses a leg upon his return from the Crimean War. Secrets and strange bumps in the night. Clothes and furniture that move when no when watches. And at the center of it all, a 15-year-old scullery maid, unaware of the secrets that surround her.Michael Ford's The Poisoned House trots out nearly every trope found in a Gothic novel. The target young adult reader may be new to the genre of haunted Victorian families and may not wince every time Mrs. Cotton, the housekeeper, threatens young Abigail Tamper, the book's heroine. Older readers, however, will recognize the stereotyped characters and plot twists long before they occur. And if younger readers have been exposed to Algernon Blackwood or Henry James, they may wonder if Ford deserves a place among them.The Poisoned House sticks to the Gothic formula without straying. This is both an asset and detriment for the book. The formula lays the groundwork for the story, and readers should have an easy time following along. The main plot twist carries enough foreshadowing on its shoulders that young readers can congratulate themselves for figuring it out ahead of the big reveal, even if the reveal depends on one character's complete change in personality that may dumbfound older readers.Abigail, or "Abi" as she is called by other characters, is an amalgam of every young Gothic heroine. She is plucky. She has hidden intelligence and taught herself to read from the books in her employer's library (although she cops to having poor handwriting and her use of the word "pumps" to describe her footwear could throw older readers out of the story into a search for the words etymology). She enjoyed a special sibling-like relationship with the young master of the house (now the aforementioned war hero). She was the daughter of a servant and given special privileges while raised in the house she now serves.Ford could have deviated from the formulaic road map now and then and elevated the story: Did the parlormaid have to become pregnant by her footman boyfriend; was it necessary for Mrs. Cotton to abuse her position as housekeeper and the lord's sister-in-law so obviously; why did no one talk about the supernatural activities at the house?It is when Ford turns his attention to the supernatural that the story takes hold of the reader. Are the strange events the result of a ghost or a human? A medium visits Mrs. Cotton and manages to convey a garbled message to Abi. A strange figure appears in a daguerreotype image.Abi, however, is far too accepting of what she interprets as supernatural events. Even without a 21st-century cynicism, the scullery maid doesn't question what is happening around her, even when events seem to tell her to mistrust everything she knew about the people with whom she's spent her life.
Review by gwenythlove
16/06/2015
Michael Ford did a brilliant job writing a realistic story placed in Victorian times. It is so easy to immerse oneself into the daily comings and goings of Greave Hall, following the actions and duties of Abi as she rises in the morning to stoke the fires, as she rushes about from room to room scrubbing the windows clean, and as she finally retires to her tiny room tucked up in the far corners of the attic, away from sight of the prominent members of Greave Hall. The characters and the world are alive and breathing, realistic and easy to believe.The story itself however was very slow to start. I mentally had to force myself through the first 1/3 of the book, anxious not to give up on it without a fight. The hook at the beginning of the book was weak. I found myself only mildly curious as to why Abi ran away from Greave Hall, and not really interested enough to care why she was refusing to return.Around the 1/3 mark (100 or so pages into the novel) the pacing finally started to pick up a bit. The plot was predictable, as were the character's actions. I feel the author tried too hard to pinpoint certain characters in their evil role and other characters in their helpful roles. So many things occurred in the book that were merely thrown in as misdirection and had no real merit to the story as a whole. There were points in the book where I wanted to yell at the characters, specifically Abi, for being so stupid and naive. It just wasn't realistic that she would believe, not notice, and fall for some of the things that she did.The title was well suited to this story, and has an underlying double meaning referring not just to the murder of the mother (mentioned very early on so not a spoiler!), but also to the house itself and the people that reside in it - the fact that secrets not only poison people to sometimes do horrible things, but sometimes just the knowledge of some secrets can poison the people themselves. I really I did like that this was a stand alone novel, no horrible cliffhanger or half-hearted sequel to try and string the story along even more. It has a beginning, a middle, and a nicely tied up ending. Everything does finally make sense in the end, but it takes a really long time to get there with not a lot of help along the way. I especially enjoyed the realistic feel the author tried to give the book by referring to diary pages at the beginning and an obituary for Abi at the end. I think it was a perfect way to round out everything that happens to Abi after her ordeal without having to write a second novel.I would recommend this book to older readers with lots of patience. There are no real romantic plot-lines that many YA readers are so fond of. The action is there, but rare, and the spaces in between can drag on. I don't think there is enough to keep younger, more hyperactive minds engaged in the story for long.