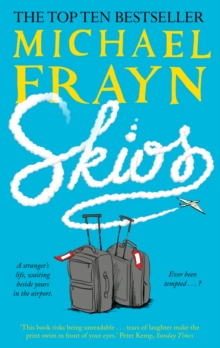 Description
'Good God, thought Oliver, as he saw the smile. She thinks I'm him! And all at once he knew it was so. He was Dr Norman Wilfred.' On the sunlit Greek island of Skios, the Fred Toppler Foundation's annual lecture is to be given by Dr Norman Wilfred, the world-famous authority on the scientific organisation of science.
He turns out to be surprisingly young and charming - not at all the intimidating figure they had been expecting.
The Foundation's guests are soon eating out of his hand.
So, even sooner, is Nikki, the attractive and efficient organiser.
Meanwhile, in a remote villa at the other end of the island, Nikki's old school-friend Georgie waits for the notorious chancer she has rashly agreed to go on holiday with, and who has only too characteristically failed to turn up. Trapped in the villa with her, by an unfortunate chain of misadventure, is a balding old gent called Dr Norman Wilfred, who has lost his whereabouts, his luggage, his temper and increasingly all normal sense of reality - everything he possesses apart from the flyblown text of a well-travelled lecture on the scientific organisation of science...And as the time draws ever nearer for one or other Dr Wilfred - or possibly both - to give the eagerly awaited lecture, so Skios - Greece - Europe - career off their appointed track. Longlisted for the Man Booker Prize, Skios is a story of mislaid identity, misdirected passion and miscalculated consequences.
Michael Frayn is also the celebrated author of fifteen plays including Noises Off, Copenhagen and Afterlife.
His other bestselling novels include Headlong, which was shortlisted for the Man Booker Prize and Spies, which won the Whitbread Best Novel Award.
Information
Format: Paperback
Pages: 224 pages
Publisher: Faber & Faber
Publication Date: 01/04/2013
ISBN: 9780571281459
Other Formats
Hardback from £11.89
EPUB from £6.39
Free Home Delivery
on all orders
Pick up orders
from local bookshops
Reviews
Showing 1 - 1 of 1 reviews.
Review by Eyejaybee
16/06/2015
Michael Frayn seems to be able to flit between literary genres at will, and he seems equally at home writing novels or for the stage. His previous works includes philosophical dramas such as [Copenhagen] and the farcical [Noises Off], while his novels include [Towards the End of the Morning] (perhaps THE great novel about the Fleet Street heyday of journalism), [Headlong] (which brings the world of fine art into a comic modern day focus) and [Spies], a marvellous rites of passage novel about young boys growing up against the backdrop of the Second World War.With this latest novel he returns to the world of farce. Oliver Fox is down on his luck and has just flown into Skios where he hopes to spend a week with Georgie, a young woman whom he had first met just a few days earlier. However, just before his plane lands he receives a text message from Georgie to say that she had missed her plane and won't be arriving until the next day. Annoyed, he snatches what he thinks is his case from the luggage carousel and proceeds out into the terminal where he sees a very attractive woman holding a sign saying "Dr Norman Wilfred". Feeling he has nothing to lose he decides to try his luck and pretends to be Dr Wilfred, and he is whisked away to the Toppler Foundation where he learns that he is expected to deliver a keynote speech on "scientometrics" the following day. By an amazing coincidence he also realises that he had picked up the wrong suitcase and is now in possession of the hapless Dr Wilfred's clothes, too.Meanwhile the real Dr Wilfred has found himself without luggage, and with no-one to meet him. Annoyed at the blow that fate seems to have dealt him, and further exasperated by the lack of support from any of the officials around the airport, he lurches out of the airport to find a solitary taxi who has been waiting for "Fox, Oliver", though he pronounces it as one word, "Phoxoliva". Wilfred tries to explain that he is meant to be going to the Toppler Foundation but the driver fails to understand, and assumes that he is indeed the passenger whom he had been commissioned to meet, and drives him off to the villa that Fox was due to stay at. Wilfred and Fox then stumble through the next couple of days living each other's lives. In fact, shades of [A Comedy of Errors], just sadly without the comedy.All potentially amusing but rather clumsily handled. In fact, all the way through I had the feeling that Frayn had had the germ of an idea but hadn't put sufficient effort in to bring it to full fruition. The overwhelming thought that I had throughout the book was a wistful pondering of "what might have been".