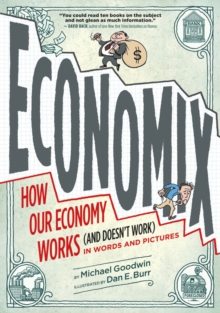 Description
Stimulus: plans: good or bad? Jobs: can we afford them? Money: who's got it? Everybody's talking about the economy, but how can you evaluate what they're saying?
How can we, the people, understand what the banks or government knows (or says they know)?
Author Michael Goodwin asked himself the same questions and came up with a good answer: explore the development of economic thought, examine the reality of economic practice, add a wry sense of humour and tell all through the graphic medium.
In a word, Economix. Goodwin's wit and clarity of writing along with artist Dan Burr's quirky, iconic art transform the "dismal science" of economics into a fun, fact-filled story about human nature and our attempts to make the most of what we've got ...and sometimes what our neighbors have got.
Economix explains it all from the beginning of Western economic thought to markets, free or otherwise, to economic failures, successes and anomalies, to how our modern economy is grappling with war, climate change and resource limitations.
The book's graphic format means complex ideas can be comprehensive and accessible.
Information
Format: Paperback
Pages: 304 pages, Illustrations
Publisher: Abrams
Publication Date: 01/09/2012
ISBN: 9780810988392
Free Home Delivery
on all orders
Pick up orders
from local bookshops
Reviews
Showing 1 - 5 of 5 reviews.
Review by bragan
16/06/2015
An extremely well-written, well-illustrated, and generally well-put-together history of the economy -- primarily the US economy, that is, although with a fair amount of global context included -- from the 17th century right up to the current mess. I found it absolutely fascinating. Seriously, <I>fascinating</I>, to the point where I resented having to put it down so I could sleep or go to work. Who would have ever, ever thought a book about economics could be a page-turner? But this volume managed to painlessly explain things to me that I have never before been able to read about without my eyes glazing over, and actually made the driest parts of American history class -- all those economic acts whose names I memorized just long enough to pass the test without ever really understanding what they were -- seem exciting and relevant. Certainly the last couple of chapters, covering recent history and the present, are extremely relevant, even if their main effect was to make me want to run screaming from the whole horrible mess and set up housekeeping on the moon.It should be noted that this is not a politically neutral take on the subject. Goodwin has some very pointed (and, in my estimation, generally very sane) things to say about wealth inequality and the problems that arise when huge corporations exert too much influence on the economy and the government. If there is a central idea here, it's that both completely unrestrained capitalism and absolute top-down control are truly terrible ways to run an economy. And it's an idea that's argued remarkably well.Heartily recommended, whether you think you're actually interested in economics or not.
Review by Mikalina
16/06/2015
Scary. Even if half of it is true. I thought I was an analytical minded academic not easily pulled by the nose. After reading this, I feel just naive. Extremely naive. I have ordered a ton of books on economy (which has not interested me in the slightest up to now).
Review by mkboylan
16/06/2015
I did NOT expect to see a graphic book about economics, nor did I expect to ENJOY a book about economics.  It is a topic that I have avoided always, thinking it was both difficult and boring.  I was so wrong.  I really enjoyed this.      It is very basic and I  now feel as if I understand a lot more and have a decent foundation for understanding this particular world, which has become more and more important for all of us.There are eight chapters, each of which covers a particular time period, grouped by important economic events.  These divisions allowed me to stop and absorb ideas and ruminate about them before going on to the next thing.  It begins with "The Distant Past to 1820", which lays the foundation with some basic definitions and explanation and the others continue to the present time.  You will know not only about the effects of the Industrial Revolution and Great Depression, but also about the dot.com happenings, the Savings and Loan crisis, the mortgage and foreclosure mess, and the many government bailouts.  And...you will understand.  You will know what was done that was legal and caused problems, as well as what was illegal.I recommend this book to just about anyone from high school on up because it is very well presented but also advanced enough to hold interest.  It's one of those books I wish everyone would read so that we can hold our government (ourselves) more accountable. I LOVED LOVED LOVED it.
Review by othersam
23/09/2015
Economics - a human invention more powerful than the nuclear bomb and about as popular, but less understood. Here's one book to help: Economix, by Michael Goodwin and Dan E. Burr is a comic about economics. With style, wit, clarity and remarkable concision - taking in every major theory along the way - it gives you a lightning tour of the world's current economic system.This book is packed with juicy information. Within its pages, to pick examples, I found the most nuanced view I've come across yet of the legacy of Adam Smith, an explanation for why it is that so many US food products contain corn syrup - and even a theory as to why mainstream economic debate is still stuck in the 1970s.We're constantly told by media and politicians that "the economy" influences every aspect of our lives. If that's true, it seems sensible to understand why. This book is a great place to start. Anyone over thirteen could read and enjoy it - and should.
Review by albertgoldfain
16/06/2015
A broad, entertaining, and sobering look at economic theory and history. Definitely opinionated, but I share most of the author's opinions.