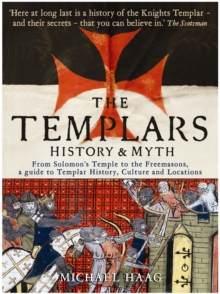 Templars : History and Myth: From Solomon's Temple to the Freemasons
Paperback
Description
An order of warrior monks founded to protect pilgrims to Jerusalem, the Templars were among the wealthiest and most powerful bodies in the medieval world.
Yet two centuries later, they were arrested, accused of blasphemy, heresy and orgies, and their leaders were burnt at the stake. Part guide, part history, this book investigates the Templar legends and legacy - from the mysteries of Solomon's Temple in Jerusalem, via nineteenth century development of the Freemasons, through to Templar appearances in Dan Brown and Indiana Jones. This book explains the whole context of Templar history, including the recent evidence discovered by the Vatican that the Templars were not guilty of heresy.
It also features a guide to Templar castles and sites.
Information
Format: Paperback
Pages: 384 pages
Publisher: Profile Books Ltd
Publication Date: 01/06/2009
Category: Medieval history
ISBN: 9781846681530
Free Home Delivery
on all orders
Pick up orders
from local bookshops
Reviews
Showing 1 - 1 of 1 reviews.
Review by In_The_Flesh
16/06/2015
Received this book as a gift for Christmas, after expressing a continued interest in the history of the crusades and what went on in them, which I had since a child.The book itself is broken up into laying out the historical religious foundations of many of the ideas surrounding the holy land today, as well as its significance to the faiths of Muslims, Jews and Christians. It then details in fairly basic language, the historical events of the crusades, and what lead to the creation of the Knights Templar as an organisation, its dominance in the holy land for 2 centuries, and its downfall and continued discussion in today's culture, with relation to the Masons.The book itself is not a book for anyone who would call themselves budding amature historians. It is a book written for people who are interested in getting a general sense of the history, or probably hoping to tie in on the increased interest in the organisation of the Knights Templar from books, films and computer games on the subject.However, there is a good overview of the subjects, and the best parts of the book are the caveats of other information tied to the book's theme, such as its discussion of other 'heretical' religious groups that existed in Southern France in the 12/13th centuries, and produces a number of "I didn't know that" moments. Worth it as a good starting point for further research in the area, but don't take it as the last word on the subject.