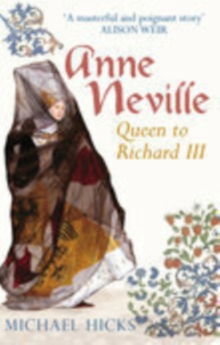 Anne Neville : Queen to Richard III
Paperback
Description
Anne Neville was queen to England's most notorious king, Richard III.
She was immortalised by Shakespeare for the remarkable nature of her marriage, a union which brought together a sorrowing widow with her husband's murderer.
Anne's misfortune did not end there. In addition to killing her first husband, Richard also helped kill her father, father-in-law and brother-in-law, imprisoned her mother, and was suspected of poisoning Anne herself. Dying before the age of thirty, Anne Neville packed into her short life incident enough for many adventurous careers, but was often, apparently, the passive instrument of others' evil intentions.
This fascinating new biography seeks to tell the story of Anne's life in her own right, and uncovers the real wife of Richard III by charting the remarkable twists and turns of her fraught and ultimately tragic life.
Information
Format: Paperback
Pages: 224 pages
Publisher: The History Press Ltd
Publication Date: 10/01/2007
ISBN: 9780752441290
Free Home Delivery
on all orders
Pick up orders
from local bookshops
Reviews
Showing 1 - 3 of 3 reviews.
Review by john257hopper
16/06/2015
This is a biography of one of the most little known Queens in English history; indeed the author says in the preface that he was sceptical about even attempting this biography, until reminded of a similar reaction he had given before he wrote his earlier book on Edward V. Very little is indeed known about this lady for herself, rather she is known through her father, Warwick the Kingmaker and her two husbands, especially Richard, her second and most well known. Very few acts and almost no thoughts or ideas of her own can be definitely identified, so this is indeed a challenge, but one that the author tackles as valiantly as the evidence available allows. He and we cannot come to a conclusion about whether she was complicit in the offences of Richard's life and reign, or was his victim. One instinctively feels the truth is more complicated, but there seems no reason to suppose she did not identify with and support his interests (as she very probably had when married to Edward of Lancaster earlier).There is not a lot new to learn in this book, though I had never before encountered the argument that her marriage to Richard was invalid according to the very complex and far reaching canonical law of the time. The couple were related in many different degrees (most especially in that his brother George Duke of Clarence was married to her sister Isabelle) and the essential dispensation sought and obtained from the Pope only covered some of the more distant connections. The author argues that, as Richard must have known about this, it may add credence to the allegation put about at the time that he was planning to replace Anne with his niece Elizabeth, once their son Edward had died and it appeared Anne could give birth to no more children and that she may be dying, as indeed she did in March 1485 at age 28, a few months before Richard's own downfall. It does seem incredible that Richard can seriously have thought he could marry his niece, though the fact that he had to deny it officially showed that at the least it had a lot of credence at the time. In sum, this book, sadly but inevitably, sheds more light on the actions of King Richard and on the mores and assumptions of the time than it does on poor Anne herself, who died so young and (to us) so obscurely, despite her prominent position at the summit of society of the time.
Review by ELEkstrom
16/06/2015
A Forgotten Queen.<br/><br/>Anne Neville, duchess of Gloucester and later consort of Richard III is, with Berengaria of Navarre, one of the least-known queens of England. She has been the subject of many historical novels for the part she played in the Wars of the Roses, and famously, for the feud between Gloucester and his brother Clarence over the Warwick inheritance she shared with Clarence's wife, her sister Isobel. She allegedly was hidden by Clarence from Gloucester to prevent him from marrying her and claiming the inheritance. It is a romantic tale, to be sure, and Mr. Hicks gives the reader a more pragmatic, less victimized picture of Anne. Yes, she was a pawn of her father in her first marriage to Prince Edward of Wales, but as a widow, she had a greater say in her choice of husbands. Mr. Hicks posits that she made the decision as well as Gloucester, to marry him. Whether it was a love match is unknown. We know that Anne and Richard were raised together at Middleham, so they were not strangers. This is a book that looks at Anne as an heiress, duchess and queen with a mind of her own and looked over by the chroniclers because she was a woman, and she was overshadowed by the stronger personalities of her day. Her life was short - she died at 28 - and there is virtually nothing written about her, save mentions in the extant histories and official records, but the author fleshes out perhaps one of the most important women of her day, and an intriguing woman at that, not the swooning, victim courted by Richard of Gloucester, later Richard III over a grave as depicted in Shakespeare's epic, if epically inaccurate, play. This was a fascinating book to read and I am glad it's available as an e-book. It's in my permanent collection.<br/>Do read this book.
Review by Desilu42
16/06/2015
Michael Hicks wrote a biography about a woman who there is not much information about. He made Anne Neville come to life and while some things are only supposed you get a real sense of who she was.