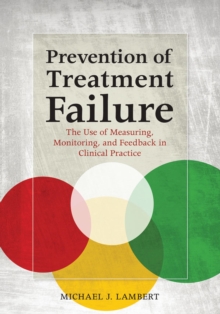 Prevention of Treatment Failure : The Use of Measuring, Monitoring, and Feedback in Clinical Practice
Hardback
Description
Empirical evidence shows that treatment failure is a significant problem and one that practitioners routinely overlook.
A substantial minority of patients either fail to gain a benefit from the treatments offered to them, or they outright worsen by the time they leave treatment.
Intervening in a timely fashion with such individuals cannot occur if practitioners are unaware of which cases are likely to have this outcome.
Prevention of Treatment Failure describes procedures and techniques that can be used by clinical practitioners and administrators to identify patients who are at risk for treatment failure.
The book summarizes evidence that convincingly shows that a shift in routine care is needed, and that such a shift can be accomplished easily through integrating specific methods of monitoring patient treatment response on a frequent basis in routine care.
Treatment response is placed in the context of historical views of healthy functioning and operationalized through the use of brief self-report scales.
Providing alert-signals to therapists, along with problem-solving tools, is suggested as an evidence-based practice that substantially reduces patient deterioration and increases the chances of the return to normal functioning.
The book also provides illustrations on how accumulated data resulting from monitoring patient treatment response can be used to improve systems of care.
Information
Format: Hardback
Pages: 293 pages
Publisher: American Psychological Association
Publication Date: 15/07/2010
Category: Clinical psychology
ISBN: 9781433807824