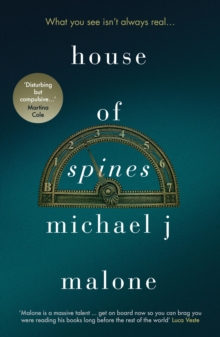 House of Spines
Paperback / softback
Description
When a young man inherits a vast mansion from an estranged great-uncle, his apparent good fortune sours when unsettling things begin to happen ...
A terrifying psychological thriller cum gothic ghost story from the bestselling author of A Suitable Lie. 'A beautifully written tale, original, engrossing and scary.
It's a wonderful mixture, a psychological thriller with a touch of a ghost story (sort of), a dollop of the supernatural (but not really) and murder (perhaps), told through the vision of a druggie poet who hasn't taken his medicine and is therefore an unreliable witness (or is he?) ... a dark joy' The Times 'A deeply satisfying read' Sunday Times'A fine, page-turning thriller' Daily Mail_________________What you see isn't always real...
Ran McGhie's world has been turned upside down. A young, lonely and frustrated writer, and suffering from mental-health problems, he discovers that his long-dead mother was related to one of Glasgow's oldest merchant families.
Not only that, Ran has inherited Newton Hall, a vast mansion that belonged to his great-uncle, who had been watching from afar as his estranged great-nephew grew up.
Entering his new-found home, it seems Great-uncle Alexander has turned it into a temple to the written word - the perfect place for poet Ran. But everything is not as it seems. As he explores the Hall's endless corridors, Ran's grasp on reality appears to be loosening. And then he comes across an ancient lift; and in that lift a mirror. And in the mirror ... the reflection of a woman. A terrifying psychological thriller with more than a hint of the gothic, House of Spines is a love letter to the power of books, and a reminder that lust and betrayal can be deadly... _________________Praise for Michael J. Malone:'House of Spines is a gothic ghost story and psychological thriller all rolled into one.
Brilliantly creepy, with a dash of Glasgow humour, I couldn't turn the pages fast enough.
A spine-tingling treat' Lisa Gray, Daily Record'From the stunning opening chapter, I was hooked.
House of Spines is an intriguing tale with a haunting, gothic quality that compels you to keep reading till the end' Howard Linskey'At first it seems like a poet's paradise, but something sinister lurks within the corridors ... a MUST READ' Daily Express'The story twists and feints, pulling us along with it at every turn, the edginess of its central character making every development even more unsettling ... a chilling read, best savoured late on a dark night' Herald Scotland'You might not want to be alone when you read this spine-chilling gothic thriller ...
As he explores its endless corridors his grip on reality seems to be evaporating in this terrifying exploration of lust and betrayal' Sunday Post'Prepare to have your marrow well and truly chilled by this deeply creepy Scottish horror ...
A complex and multi-layered story - perfect for a wintry night' Sunday Mirror'Beautifully crafted and colourfully descriptive ... keeps the reader gripped by an uneasy presence, a chill, literally, down the spine' Undiscovered Scotland'Malone is a massive talent ... get on board now so you can brag you were reading his books long before the rest of the world' Luca Veste'Vivid, visceral and compulsive' Ian Rankin'A terrific read ...
I read it in one sitting' Martina Cole'A deeply personal thriller that will keep the reader turning those pages, with twists and turns designed to keep the heart pumping' Russel D.
McLean
Information
Format:Paperback / softback
Pages:300 pages
Publisher:Orenda Books
Publication Date:15/09/2017
Category:
ISBN:9781910633861