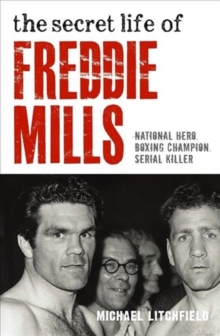 The Secret Life of Freddie Mills
Paperback / softback
Description
Seven young women, all murdered in the most disgusting manner imaginable.
Unimaginable, in fact: a first of its kind, and never before explicitly revealed. All the victims were prostitutes. All were dumped naked after having been stored by their killer as sex toys.
Some of them were mothers. Each was someone's daughter. And for more than fifty years the author has lived with the haunting secret that he was once suspected by Scotland Yard of being a serial killer more depraved and dangerous than Jack the Ripper. In the killing-spree that lasted more than a year, the author had a mole deep inside Scotland Yard's Murder Squad, similar to "Deep Throat" of Watergate scandal, who was drip-feeding him the step-by-step ploys to snare the monster who brought terror to the streets of West London. Hundreds of police women, posing as prostitutes, flooded the red-light districts, hoping to be selected by the killer - more hopeful, though, that the back-up would swoop to the rescue in time.
At one point, Scotland Yard feared that a prostitute, missing for more than a fortnight, had become the eighth victim and appealed to the public for help.
It took the author just eleven hours to track her down and hand her alive and well to the Murder Squad. When the killings stopped, the most senior member of the Murder Squad claimed that the serial killer had committed suicide and an innocent man was named in a deceitful cover-up.
The author fingers the real serial killer, a celebrity and national treasure who died in circumstances arguably even more bizarre than the manner in which he murdered his victims.
Information
Format: Paperback / softback
Publisher: John Blake Publishing Ltd
Publication Date: 07/09/2017
Category: True crime
ISBN: 9781786064455