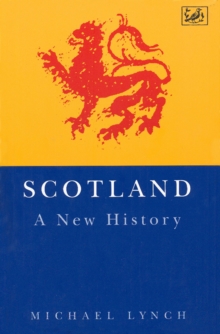 Scotland : A New History
Paperback
Description
Columba, Bannockburn, Robert Bruce, the nobles, Home Rule, Kenneth mac Alpin, the Wars of Independence, the union of the crowns, Mary, Queen of Scots, the Convenanters, the Reformation, Flodden, the industrial revolution, James VI, Thomas Chalmers, the union of parliaments, John Knox, the Canmore dynasty, Glencoe, the Enlightenment, the Highland Clearances, devolution, the Jacobites...Scotland is the first full-length, one-volume history of the country for more than twenty years.
It spans twenty centuries, from the Picts to the present day.
It is thrilling, comprehensive, provocative and timely.
Information
Format: Paperback
Pages: 544 pages
Publisher: Vintage Publishing
Publication Date: 08/10/1992
Category: British & Irish history
ISBN: 9780712698931
Free Home Delivery
on all orders
Pick up orders
from local bookshops
Reviews
Showing 1 - 1 of 1 reviews.
Review by Speesh
16/06/2015
It was perhaps a mistake on my part to try and read this one all in one go, like it was a novel. A novel it most certainly isn't and I can't blame the author for that, it's my mistake to think of it as such.<br/><br/>It's clear, as the book develops, that it is intended as a work of reference and, whilst for me the beginning few sections at least, do seem to be intended to read like a sequential story, later sections are organised such that it becomes very difficult to read as if it was a historical novel.<br/><br/>I think the early pages covering Scotland's earliest history, read like they do, in contrast to the rest, due to the lack of detailed information for him to show you he's got a hold of.<br/><br/>My criticism of the book, if I can find one, is that Lynch does seem very keen to show us all the exhaustive research he's done and then present us with all the exhausting information he possibly can. It seems sometimes, as if he wants to show us that's it's only he who can decide the meaning behind what happened. He's clearly setting himself as the authority here. I'm maybe being too harsh, but sometimes it isn't necessary to lay so much information down at one time. Not if you're producing a one volume edition. The book could easily have gone over two or three volumes and not suffered. It would have been a bit more open and readable, in my humble opinion.<br/><br/>It actually made me think of the telephone book. Full of interesting, even vital information and an absolute triumph of collation of the information. But not something you'd want to wade through at one sitting.<br/><br/>As a work, fantastic. As a historical novel, not quite so. But that's just me.<br/><br/>I haven't actually finished it. I can't at the moment. It's taking so long and I want to move on to others.