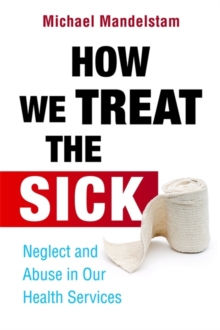 How We Treat the Sick : Neglect and Abuse in Our Health Services
Paperback / softback
Description
No official statistics are kept for the number of hospital patients, in particular older people, who are subjected to neglect and abuse.
That is, left malnourished and dehydrated, in pain, allowed to develop agonising and fatal pressure sores, not taken to the toilet, left to lie in their own bodily waste, cared for in a filthy environment and at risk of infection, ignored, allowed to fall over repeatedly, not spoken to, left naked or dressed in other patients' clothes - and discharged from hospital prematurely.
This book bears witness to all these practices and more.
Setting out a wealth of evidence not previously brought together, Michael Mandelstam shows beyond question that neglectful care is a systemic blight, rather than mere local blemish, within our health services.
He analyses the causes and factors involved, reveals the widespread denial and lack of accountability on the part of those responsible - and spells out the political, moral, professional and legal implications of this failure to care for the most vulnerable of patients with humanity and compassion.
Most important, Mandelstam points to the main obstacles to a solution - and to how they can be removed and change be accomplished. This book should be read by anyone concerned with the state of our health services, including National Health Service users, government policy makers and planners, public health practitioners and academics and researchers.
Information
Format: Paperback / softback
Pages: 384 pages
Publisher: Jessica Kingsley Publishers
Publication Date: 15/04/2011
Category: Social welfare & social services
ISBN: 9781849051606