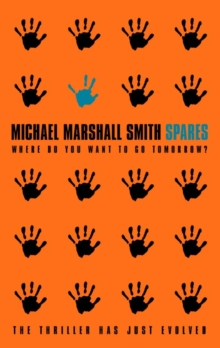 Description
Talking fridges, human clone farms, flying shopping malls - we must be in the Michael Marshall Smith zone.
A world all too close to our own... Spares - human clones, the ultimate health insurance.
An eye for an eye - but some people are doing all the taking. Spares - the story of Jack Randall: burnt-out, dropped out, and way overdrawn at the luck bank.
But as caretaker on a Spares Farm, he still has a choice, and it might make a difference...if he can run fast enough. Spares - a breathless race through strange, disturbing territories in a world all too close to our own. Spares - it's fiction. But only just...
Information
Format: Paperback
Pages: 336 pages
Publisher: HarperCollins Publishers
Publication Date: 30/07/1998
Category: Science fiction
ISBN: 9780006512677
Free Home Delivery
on all orders
Pick up orders
from local bookshops
Reviews
Showing 1 - 4 of 4 reviews.
Review by reading_fox
16/06/2015
Not his best work, or maybe just a touch to dark for my taste. Another future world with a megaCity in true cyberpunk style where anything is for sale, but those born to be genetic replacements for the truly rich have feelings too, and world isn't ever as it seems in Smith's work.
Review by felius
16/06/2015
This is an excellent and strange book. It's a sci-fi noir detective thriller with some serious excursions into surrealist territory, and liberal helpings of humour thrown in between all the drugs and violence. Despite this confusion, the author has managed to pull off a cohesive story with fully fleshed-out characters in a vividly described world.A cop goes off the rails after a mob hit on his family takes away all he had left in life. He wasn't exactly on the rails to begin with, so this leaves him a complete wreck. A friend helps get him into a job as caretaker of a "Spares Farm", a medical facility designed to house human clones intended to act as live organ donors, basically as a macabre insurance policy for the clone "owners". The day-to-day activities of the farm are handled by robots, which is just as well as our protagonist is in no state to look after himself when he arrives.After some time in the farm he gets the opportunity to see just how bad this situation is for the clones who, despite being human, are treated worse than most livestock. He cleans up and begins trying to teach some of the more responsive clones, to give them an opportunity to become "human". This all comes to a head one day when one of his clones is selected for a procedure which would end up killing them, so he helps a group of clones make their escape out into real world.That when things <i>really</i> start to go down hill for all involved.The story jumps back and forth, with flashbacks gradually filling in the background and not too infrequently putting events in a new light in the process. The narrator and protagonist is a very flawed individual indeed, and constantly struggling with addiction and other vices. Despite this, he's a likable enough character burdened by remorse for past actions, and for failing to have appreciated his family properly while he had them.I bought this on the recommendation of one of the staff at my bookstore - my own dealer who can always get me the fix I need. It's unlikely I'd have bought this book otherwise, but I enjoyed this enough that I'm now going to have to go find more from this author - and thank Richard for putting me on to him while I'm in the store. ;)
Review by bloodofareptile
16/06/2015
The point of art is to create a reaction in people, good or bad, the stronger the better. Michael Marshall Smith always accomplishes that with me, but unfortunately in this case it was a hate reaction. I had previously read and loved "One of Us" and "Only Forward", so dove into this book eagerly. <br/><br/>MMS always creates interesting, oddball worlds that are very full and developed around the characters. I found the clone concept to be very upsetting in and of itself - the entire way it was set up and they were used was difficult to read. However, if that had been it, I probably would have survived this book and rated it higher. The sci-fi "twist" in this book (as is common in MMS books) involved an alternate world they could walk into that was entirely based on, or flashbacks to, a war. I never read books about war or watch movies - I find it upsetting and pointless. So, strike two. <br/><br/>Add in that our hero is a drug addict, another concept I never enjoy, it was three-strikes for this book. The writing is good and the pacing is nice, but it ended up just being a swamp of abject misery for me, and I read for enjoyment. <br/><br/>I also couldn't get over what, for me, felt like a glaring plot hole - a bunch of super-rich people who are able to grow full clones of themselves and have a state-of-the-art facility to do all this, as well as largely automated care... hire one lone dude as "security" and the best that money can buy is a raging drug addict. Really?<br/><br/>While it feels unfair to me to lump this book in with the Kindle free atrocities... All in all, I left the book feeling sick, upset, and annoyed. This is one Michael Marshall Smith book that I will not revisit.
Review by rockinghorsedreams
27/08/2015
It finished a lot stronger than it started. It was definitely more shocking and powerful than I was expecting and had some very interesting ideas.
Also by Michael Marshall Smith | View all