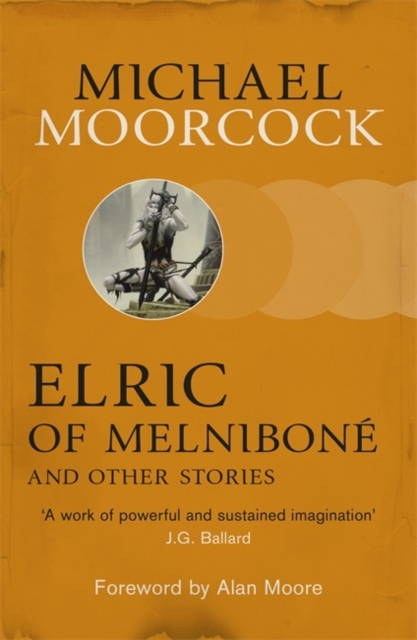 Elric of Melnibone and Other Stories
Description
Elric of Melniboné is the classic fantasy antihero who transformed the genre, an evil emperor with a conscience who struggles with his sentient sword Stormbringer This book contains the author's definitive editions of the Elric saga, the last emperor of Melniboné.
Michael Moorcock and his long-time friend and bibliographer John Davey have collaborated to produce the most consistent and coherent narrative from the disparate novels, novellas, short stories and non-fiction about Elric.
From his early life in Melniboné all the way through to his final days, these seven volumes will be the definitive telling of the albino prince's story.
Elric is one of the great creations of modern fantasy, and has inspired legions of imitators.
If you know his story already, then this definitive edition will finally let you read the entire saga in the author's preferred order.
If you've never experienced the chronicles of the albino with the soul-sucking sword, then this is the perfect place to start. Readers have loved Elric for decades:'I'm an absolute sucker for the grand sweeping personal quests to gain more and yet more magical power in the service of rescuing your one true love, casting aside morals, the greater good, your own health, and possibly your own sanity.
This tale holds up perfectly' Goodreads reviewer, ⭐ ⭐ ⭐ ⭐ ⭐'Has everything you'd want in high fantasy adventure, a conflicted hero as well as fantastic worlds filled with strange monsters and ancient magics' Goodreads reviewer, ⭐ ⭐ ⭐ ⭐ ⭐'[Elric] holds a special place in the annals of fantasy characters . . . really not to be missed by fantasy fans' Goodreads reviewer, ⭐ ⭐ ⭐ ⭐ ⭐'Elric has to be just about the coolest most bad ass mofo in the history of fantasy fiction . . . it is amazing how much plot, characterization and action Moorcock managed to squeeze in' Goodreads reviewer, ⭐ ⭐ ⭐ ⭐ ⭐
Information
Format:
Pages:384 pages
Publisher:Orion Publishing Co
Publication Date:23/05/2013
Category:
ISBN:9780575113091
Information
Format:
Pages:384 pages
Publisher:Orion Publishing Co
Publication Date:23/05/2013
Category:
ISBN:9780575113091