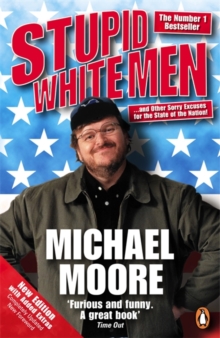 Stupid White Men : ...and Other Sorry Excuses for the State of the Nation!
Paperback
Description
Now with more than three million copies sold, Oscar-winning filmmaker and political activist Michael Moore's bestseller Stupid White Men tells you everything you need to know about how the great and the good screw us over. It reveals - among other things - how 'President' Bush stole an election aided only by his brother, cousin and dad's cronies, electoral fraud and tame judges; how the rich stay rich while forcing the rest of us to live in economic fear; and how politicians have whored themselves to big business. Whether he's calling for United Nations action to overthrow the Bush Family Junta, calling on African-Americans to place whites-only signs over the entrances of unfriendly businesses, or praying that Jesse Helms will get kissed by a man, Stupid White Men is Michael Moore's Manifesto on Malfeasance and Mediocrity. A hilarious must-read for anyone who wants to know what the con is and how 'they' get away with it, Stupid White Men is only available uncensored because public pressure forced the original publishers to publish a book they felt was too hot to handle.
Now it's time to find out why. 'A really great, hilarious, rollicking, fantastic read' Newsnight Review 'Caustic, breakneck, tell-it-like-it-is ...
He's a genuine populist; a twenty-first-century pamphleteer' Observer 'Furious and funny.
A great book' Time Out 'Hysterically funny. The angrier Moore gets, the funnier he gets. Sensational' San Francisco Chronicle Author of international bestsellers Stupid White Men and Dude, Where's My Country, Michael Moore's 2002 film Bowling for Columbine won the Anniversary Prize at the Cannes Film Festival and the 2002 Academy Award for Best Documentary.
His 2004 film Fahrenheit 9-11 won the 2004 Palme d'Or at the Cannes Film Festival, and is the highest-grossing documentary of all time.
Released in 2007, Moore's documentary Sicko, focused on the American healthcare system, was nominated for an Oscar.
Information
Format: Paperback
Pages: 320 pages
Publisher: Penguin Books Ltd
Publication Date: 27/05/2004
Category: Politics & government
ISBN: 9780141019994
Free Home Delivery
on all orders
Pick up orders
from local bookshops
Reviews
Showing 1 - 5 of 7 reviews.
Previous | Next
Review by elmyra
16/06/2015
Polemic but fun to read - until you think about it, at which point it becomes depressing. It's one of those books that we liberal Europeans love to read because it confirms that we're right. Unfortunately, preaching to the choir doesn't tend to achieve much. ;-)
Review by whiteberg
16/06/2015
Rather silly, but it has some funny and illuminating moments.
Review by samsheep
16/06/2015
Fully agree with what he is saying but reading it feels rather like being shouted at. Inevitably becoming a bit dated now that the reign of Bush is mercifully over but much still remains sadly true about the remaining stupid white men.
Review by Sean_RMIT
16/06/2015
If you want to know why large portions of the human race including my good self disapprove of America's government and corporates then read this book. Just like everything I have seen and read from Moore you are sure to go away angry. This is especially true for me as many of the ugly neo liberal policies being perpetrated in the US are slowly slithering into the politics of other countries including Australia and New Zealand where I currently reside. Privitised medical, undermined workers rights and parasitical banks are a plague we all have to watch out for. Aided and abetted of course by stupid white men (and women) out for a quick buck at everyone elses expense. Like Moore or hate him he makes his point and makes it well.
Review by isabelx
16/06/2015
I loved the introduction to the Penguin edition, where he explains to his non-American readers how the librarians of America put the fear of God onto his US publishers and forced them to publish SWM after they got extremely cold feet in the wake of 9/11. This is a great book, passionate and full of righteous indignation and ideas for making a difference. I have liked Michael Moore since seeing his "TV Nation" series.