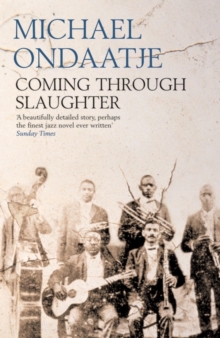 Coming through Slaughter
Paperback
Description
Based on the life of cornet player Buddy Bolden, one of the legendary jazz pioneers of turn-of-the-twentieth-century New Orleans, Coming Through Slaughter is an extraordinary recreation of a remarkable musical life and a tragic conclusion.
Through a collage of memoirs, interviews, imaginary conversations and monologues, Ondaatje builds a picture of a man who would work by day at a barber shop and by night unleash his talent to wild audiences who had never experienced such playing.
But Buddy was also playing the field with two women, and inside his head was a ticking time-bomb which he was unable to stop.
Information
Format: Paperback
Pages: 176 pages
Publisher: Bloomsbury Publishing PLC
Publication Date: 02/08/2004
ISBN: 9780747572626
Other Formats
Hardback from £10.39
EPUB from £7.99
Free Home Delivery
on all orders
Pick up orders
from local bookshops
Reviews
Showing 1 - 2 of 2 reviews.
Review by Polaris-
27/08/2015
In June 1907, Charles "Buddy" Bolden is 'escorted' by Civil Sheriffs McMurray and Jones en route from New Orleans to an insane asylum in Jackson, Louisiana. He has suffered a complete breakdown while playing with Henry Allen's Brass Band ('Red' Allen's father), marching in the Crescent City. He had broken blood vessels in his neck, and they had come through a small town called Slaughter on their way. These are some of the few hard facts known of the life of one of jazz's earliest pioneers, a life that has become the stuff of ethereal myth, legend for some. Bolden's sad story has captured the imagination of Michael Ondaatje. He tells a version of the story in a way that leaves a fuzzy glimpse of a time, a place, and a flawed musician's mental instability that leads to self-destruction. Not the last time that a force of creative talent might succumb like this.I'm not so sure that this is "the best jazz novel ever written" (as one blurber has it), but it is certainly a moving suggestion of a New Orleans at the dawn of the 20th century. Bolden was jazz's first 'cornet king'. Apparently at the forefront of improvisation, sadly no recordings of his music exist (if any were ever made), and only the one known photograph survives - used as the book's cover (Bolden is back row with his band, 2nd from the left). The first 'celebrities' of that music cite him as the great unknown influence who shaped the earliest departures that melded gospel with ragtime and the blues.Ondaatje writes poetically. This was his debut novel and the writing is memorable in passages. The structure here is a jazz performance. Sometimes rhythmic, but sometimes jarring, or perhaps even discordant. He shows us Bolden's view, but also those of his wife, and his friends: Webb - a detective who is trying to find what happened to him, and his tragic associate Bellocq who photographs Storyville prostitutes. We move in time back and forth, and sometimes can't be sure - until the refrain returns. There is a narrator in the shadows, watching over proceedings. There are love triangles: Bolden, his wife Nora and her former pimp Pickett; then another while in a self-imposed exile of two years at out of town Shell Beach. It can be confusing. But an impression undoubtedly emerges. Buddy is unpredictable and volatile - tender and subdued, intense and impassioned - alcoholic and then sometimes violent. The book pieces together episodic vignettes. From those who knew him, and those that link together the scant facts concerning his life."'Then I hear Bolden's cornet, very quiet, and I move across the street, closer. There he is, relaxed back in a chair blowing that silver softly, just above a whisper and I see he's got the hat over the bell of the horn...Thought I knew his blues before, and the hymns at funerals, but what he is playing now is real strange and I listen careful for he's playing something that sounds like both. I cannot make out the tune and then I catch on. He's mixing them up. He's playing the blues and the hymn sadder than the blues and then the blues sadder than the hymn. That is the first time I ever heard hymns and blues cooked up together......The picture kept changing with the music. It sounded like a battle between the Good Lord and the Devil. Something tells me to listen and see who wins. If Bolden stops on the hymn, the Good Lord wins. If he stops on the blues, the Devil wins.'"Although the brief chapters can be beautifully rendered, it is the piecemeal approach of the narrative that let the book down a little for me, and will doubtless dishearten some. Near the end is an afterword of sorts, set in the modern day as the author searches for traces. It weaves itself in with the final points of view:"The street is fifteen yards wide. I walk around watched by three men farther up the street under a Coca Cola sign. They have not heard of him here. Though one has for a man came a year ago with a tape recorder and offered him money for information, saying Bolden was a 'famous musician'. The sun has bleached everything. The Coke signs almost pink. The paint that remains the colour of old grass. 2 pm daylight. There is the complete absence of him - even his skeleton has softened, disintegrated, and been lost in the water under the earth of Holtz Cemetery. When he went mad he was the same age as I am now."
Review by dazzyj
16/06/2015
Unfortunately the many virtues that others see in this book were invisible to me. I found it disjointed, pretentious in its style and unengaging in its characters.