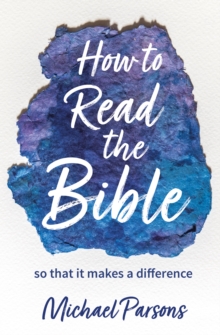 How to Read the Bible : ... so that it makes a difference
Paperback / softback
Description
How to read the Bible? And how to apply it? To read and engage with the Bible, we first need to understand the story, the styles of writing and the approaches we find in the text.
Michael Parsons encourages readers to look at the whole biblical storyline before demonstrating ways of approaching individual texts.
Topics along the way include understanding different genres, the importance of narrative, imaginative reading, praying the Bible, difficult passages and what to do with them, and how to apply scripture to our own lives. 'Michael Parsons is passionate about the Bible - and it shows!
He is also passionate about helping people engage with the Bible in ways that draw them into personal and transformative encounters with the God revealed in its pages.
This book is bursting with resources to help us understand what the Bible is, how to read and study it for ourselves, and how to know God better as we do so; it is a richly rewarded read!'Mags Duggan, author and speaker
Information
Format: Paperback / softback
Pages: 144 pages
Publisher: BRF (The Bible Reading Fellowship)
Publication Date: 24/01/2020
Category: Bibles
ISBN: 9780857468093