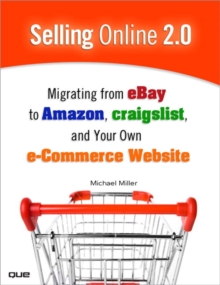 Selling Online 2.0 : Migrating from eBay to Amazon, craigslist, and Your Own E-Commerce Website
Paperback / softback
Description
REMEMBER WHEN eBay USED TO BE A GREAT PLACE FOR SMALL SELLERS TO BECOME BIG SELLERS?
Unfortunately, recent changes at eBay have made online auctions less reliable and profitable.
So where can you sell when you can't sell on eBay? Online auctions are the past; fixed-price selling is the future.
It's time to move beyond eBay and first-generation online selling and start Selling Online 2.0.
Second generation online selling means migrating from eBay to other online marketplaces, including craigslist, Amazon, and your own e-commerce website.
You'll need to make some new plans, learn some new skills, and change some of the things you do--but you'll find that there's more money to be made on your own than relying on traditional eBay online auction sales. Put together a plan to maintain your sales level and profitability--to counteract eBay's changesDiscover how to shift from auction sales to fixed-priced listings on the eBay marketplaceFind out if running an eBay Store or selling on Half.com makes sense for your businessLearn out how to sell locally on craigslist and other online classifieds sitesDiscover how to sell fixed-price merchandise on the Amazon marketplaceFind out how to launch your own e-commerce website--and promote your online storeLearn how to sell products across multiple channels--and manage multichannel conflicts Introduction 1What's in This Book 2Who Can Use This Book 3How to Use This Book 3There's More Online... 4Making the Move 4I BEYOND ONLINE AUCTIONS: CREATING A SUCCESSFUL ONLINE BUSINESS 51 The Problem with Online Auctions 7What eBay Used to Be Like... 7Why Is eBay Abandoning Smaller Sellers? 10Changes Are Afoot--and You Probably Won't Like Them 12Emphasizing Fixed-Price Sales over Auction Sales 12Changes to the Fee Structure 12Changes to the Payment System 14Changes to the Feedback System 15Changes to Search Results 15eBay's Deal with Buy.com 16How Do eBay's Changes Affect You? 162 Planning for Selling Success 19Planning for Life Beyond eBay Auctions 19Asking--and Answering--Key Questions 20What Type of Merchandise Do You Want to Sell? 20How Much Money Do You Want to Make? 21How Do You Intend to Manage Your Business? 23Where Do You Want to Sell? 25Conceiving a Business Plan 26Understanding the Components of a Useful Business Plan 28Mission 29Opportunity 30Strategy 30Organization and Operations 31Strengths and Weaknesses 31Financials 31Writing Your Business Plan 32Implementing Your Business Plan 33II FIXED-PRICE SELLING ON EBAY 353 Migrating to Fixed-Price Listings 37Why Fixed-Priced Sales Are the Way to Go 37Comparing Fees 38Comparing Listing Lengths 40Factoring in Customer Demand 41Different Ways to Sell at a Fixed Pric 42Understanding eBay's Fixed-Price Listings 43Understanding eBay's Buy It Now Auctions 44Understanding eBay Stores 46Understanding Half.com 47Creating an eBay Fixed-Price Listing 50Creating an Auction Listing with a Buy It Now Price 51Managing Fixed-Price Sales 52Before the Sale: Setting the Price 53After the Sale: Payment and Shipping 534 Fixed-Price Selling in an eBay Store 57What Is an eBay Store? 57Benefits of Opening Your Own eBay Store 59Challenges of eBay Store Selling 60Understanding eBay Store Subscription Levels 61Understanding Insertion Fees and FVFs 63How to Open an eBay Store 63Further Customizing Your eBay Store 67Managing Your eBay Store 68Listing Merchandise for Sale in Your eBay Store 70Handling eBay Store Sales 71Marking Down Your Merchandise 72Viewing eBay Store Reports 735 Fixed-Price Selling on Half.com 77Getting to Know Half.com 77Understanding the Half.com Shopping Experience 79Understanding Half.com Fees 80Listing on Half.com 81Pricing Your Half.com Items 83Calculating Shipping and Handling Charges 84Managing Half.com Sales 856 Promoting Your Fixed-Price eBay Sales 87Promoting Your Fixed-Price Listings on the eBay Site 87Optimizing Your Listings for eBay Search 88Linking from Other Sites to Your eBay Listings 90Promoting Your eBay Store 90Seeding Listings into the Traditional eBay Marketplace 91Enabling Cross-Promotions 91Creating an Email Mailing List 92Linking to Your eBay Store 94Adding a Stores Widget to Your Blog or Website 95Creating a Listing Feed 95Exporting Your Listings to Search Engines and Shopping Sites 96Advertising on the eBay Site with AdCommerce 97Advertising Across the Web with Google AdWords 99Promoting Your Store in the Real World 101Promoting Your Half.com Listings 102III SELLING VIA CRAIGSLIST ONLINE CLASSIFIEDS 1057 Online Classifieds: Are They Right for Your Business? 107Understanding Online Classifieds 107Examining Major Online Classifieds Sites 110craigslist 110Oodle 111Kijiji 113backpage.com 114LiveDea 115Google Base 116The Pros and Cons of Selling via Online Classifieds 117Pros of Online Classifieds Selling 117Cons of Online Classifieds Selling 118Do Online Classifieds Make Sense for Your Business? 120The Best Businesses for Migrating to Online Classifieds 120The Worst Businesses for Migrating to Online Classifieds 1218 Doing Business on craigslist 125Understanding craigslist 125Navigating craigslist Listings 126Before You List... 129Listing an Item for Sale 130Formatting Your Item Description 133Using HTML Formatting 133Inserting Images into Your Listings 134Managing Your Listings 135Editing a Listing 135Deleting a Listing 136Making a Sale 1369 Migrating from Online Auctions to Online Classifieds 139What Items Should You Move to craigslist? 139Changing Your Business Model 141Going Local 141Pickups,No Shipping 142Cash Is King 143We Don't Need No Stinking Tools 143It's the Wild West 144Businesses Aren't Always Accepted 144Making the Move 14510 Promoting Your craigslist Business 147Choosing the Right Community and Category 147Optimizing Your Listings for Search 148Keeping Your Ad at the Top of the List 148IV SELLING ON THE AMAZON MARKETPLACE 15111 The Amazon Marketplace: Is It Right for Your Business? 153Understanding the Amazon Marketplace 153What the Buyers See 154The Many Ways to Sell on Amazon 156Selling Individual Items on the Amazon Marketplace 157Understanding the Amazon Marketplace 158Understanding Amazon's Fees 159Selling as a Pro Merchant 161Selling on Amazon via Selling on Amazon 162Selling in an Amazon WebStore 163Using Amazon to Fulfill Your Orders 163How It Works 164Understanding Fulfillment Pricing 164The Pros and Cons of Selling on Amazon 166Selling on Amazon: Pros 166Selling on Amazon: Cons 16712 Doing Business in the Amazon Marketplace 169Listing Individual Items in the Amazon Marketplace 169Listing Your First Item 69Managing Your Account and Inventory 173Selling an Item 175Setting Up Your Amazon Storefront 176Moving to the Pro Merchant Program 177Upgrading to Pro Merchant Status 177Uploading Multiple Listings 178Creating a Product Detail Page 18013 Migrating Your eBay Business to Amazon 185Does Migrating to Amazon Make Sense? 85Comparing Fees 185Comparing Sales and Effort 187Which Items Should You Migrate? 188Evolving Your Business Model 189Making the Move 19014 Promoting Your Amazon Business 193Keeping Your Listings Competitive 193Competing on Feedback 194Placing Product Ads on the Amazon Site 196Advertising Your Business with a Display Ad 197V SELLING ON YOUR OWN WEBSITE 20115 Establishing Your Own Website: Is It Right for Your Business? 203Building an Online Store--What's Involved? 203The Components of an E-Commerce Website 203Different Ways to Build a Store 206How Much Does It Cost? 207Pros and Cons of Running Your Own Website 208Pros of Running Your Own Online Store 208Cons of Running Your Own Online Store 209Does an Online Store Make Sense for Your Business? 21116 Planning Your Online Presence 215Step One: Create Your Plan and Define Your Goals 215Step Two:Determine What You're Selling 216Step Three: Choose a Hosting Service 216Step Four: Build Your Website 217Step Five: Choose an Online Payment Service 218Step Six: Plan Your Promotion 219Step Seven: Launch Your Site 220Step Eight: Evaluate Your Performance 22117 Setting Up an E-Commerce Website 223Choosing a Hosting Service 223Features to Look For 224Comparing Prices 226Using eBay ProStores 227ProStores for eBay Sellers 227Subscription Levels 228Getting Started with ProStores 229Building an Amazon WebStore Store 230Inside an Amazon WebStore Store 230Creating Your Own WebStore 231Building a Yahoo!
Merchant Website 233Subscription Levels 233Unique Features 234Creating Your Own Yahoo!
Store 235Exploring Other Pre-Designed Storefronts 23618 Managing Online Sales 241Managing Your Inventory 241Managing Your Sales 243Managing Your Customers 24519 Choosing an Online Payment System 249Accepting Payments with PayPal 249Pros and Cons of PayPal 250Signing Up for PayPal 251Understanding PayPal Fees 252Adding PayPal to Your Website 253Collecting PayPal Payments 254Accepting Payments with Google Checkout 255Pros and Cons of Google Checkout 255Understanding Google Checkout Fees 256Setting Up a Google Checkout Account 257Choosing a Google Checkout Service 257Adding Google Checkout to Your Website 258Collecting Google Checkout Payments 259Withdrawing Google Checkout Funds 260Integrating Google Checkout with Google AdWords 260Accepting Payments with Checkout by Amazon 261Pros and Cons of Checkout by Amazon 261Understanding Checkout by Amazon Fees 262Setting Up Checkout by Amazon 262Establishing Your Own Merchant Credit Card Account 263Pros and Cons of a Merchant Account 264Choosing a Credit Card Processor 26520 Promoting Your E-Commerce Website 267Putting Together a Marketing Plan 267Optimizing Your Site for Search Engines 269All About Search Engine Marketing--and SEO 269SEO Tip #1: Fine-Tune Your Keywords 269SEO Tip #2: Tweak Your and
Information
Format: Paperback / softback
Pages: 360 pages
Publisher: Pearson Education (US)
Publication Date: 27/03/2009
Category: Online shopping & auctions
ISBN: 9780789739742
Free Home Delivery
on all orders
Pick up orders
from local bookshops