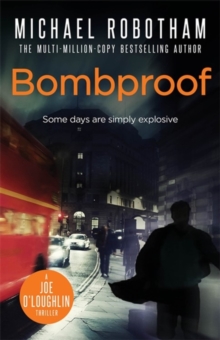 Description
Sami Macbeth is not a master criminal. He's not even a minor one. He's not a jewel thief. He's not a safe-cracker. He's not an expert in explosives. Sami plays guitar and wants to be a rock god but keeps getting side-tracked by unforeseen circumstances.Fifty-four hours ago Sami was released from prison.
Thirty-six hours ago he slept with the woman of his dreams at the Savoy.
An hour ago his train blew up. Now he's carrying a rucksack through London's West End and has turned himself into the most wanted terrorist in the country.Fast, funny, hip and violent, Bombproof is a non-stop adventure full of unforgettable characters and a heart-warming hero - Sami Macbeth - a man with the uncanny ability to turn a desperate situation into a hopeless one.
Information
Format: Paperback
Pages: 400 pages
Publisher: Little, Brown Book Group
Publication Date: 31/01/2009
Category: Thriller / suspense
ISBN: 9780751542042
Other Formats
EPUB from £5.99
Paperback from £7.25
Free Home Delivery
on all orders
Pick up orders
from local bookshops
Reviews
Showing 1 - 4 of 4 reviews.
Review by smik
16/06/2015
BOMBPROOF may not be available outside Australia for a few months, and it won't be on sale here for at least the rest of this year. It was commissioned from Michael Robotham as part of Australia's Books Alive promotion for which Robotham is the "ambassador". This is a unique literacy, get-back-to reading, promotion largely funded by the Australian Federal government.In BOMBPROOF Robotham unashamedly aimed to write a crime fiction page-turner of broad appeal. It is a thriller with much less of the psychological "whydunnit" focus than his other books. He was commissioned to write a shorter book, and this comes in at 275 pages, although still apparently longer than the promoters expected.It also features retired London DI Vincent Ruiz, a central figure in earlier books: in this one in the role of saviour and good Samaritan.The gist of the story: Sami Macbeth has just finished a 3 year stretch for a crime he didn't commit. He was the victim of circumstances: a man found in the wrong place at the wrong time "in possession" of goods he shouldn't have had. His reputation precedes him to gaol, of skills as a safecracker (that he doesn't have), found in possession of stolen jewellery (that he didn't steal). It is a reputation that keeps him from harm in gaol. His last night in gaol is shared with the ne'er do well son of a self made man. All Sami wants to do when he gets out is to look for his sister and resume his life. Outside the gaol a carload of men he doesn't know are waiting to collect him and he evades them by pretending to be someone else.Two things have kept Sami going in gaol - his sister and his correspondence with his girlfriend. When he can't find his sister, he finds sanctuary with his girl friend. Then his search for his sister leads to his involvement in a robbery of the evidence strong room of the Old Bailey, and eventually to the detonation of a bomb in the London underground. And now Sami Macbeth is a man on the run, again in the wrong place at the wrong time. What should have been a gentle resumption of life outside prison becomes a nightmare, and Sami needs help.Vincent Ruiz has connections with the self-made man whose son was Sami's last cell mate. Ruiz's ex-wife Miranda is Sami Macbeth's parole officer. And so to a degree this story is also about degrees of separation and connection. In a small place like Adelaide, where I live, where everyone seems connected to everyone else, we say there are about 3 degrees of separation. It seems that in a large city like London the cobweb is just as connected. Ruiz becomes involved in Sami's plight partly because his ex-wife gives Sami his number, but also because of his connections with the self-made man, whom Ruiz hates and on whom he wants to wreak revenge.BOMBPROOF really is a page turner. A slightly different Robotham shows his face, and this book will gain him readers, pulling them to his other books. BOMBPROOF won't hit the shelves in its own right for a few months at least, but yesterday I saw it on a second hand book stall, and there has already been one exchange of it on BookMooch. Thousands of free copies have been distributed in Australia.Want to read the blurb? Go to Michael Robotham's site.
Review by SamuelW
16/06/2015
Did somebody say 'free book'? Being a bookseller, my ears invariably prick up at phrases such as these. Following the success of last year's 'Books Alive' promotion, my fellow staff members ordered plenty of copies of <i>Bombproof</i>, expecting that the 2008 selection would be a hit. I had never read any Robotham, but had sold plenty, and thought him to be quite a good writer. My disappointment, then, was twofold. First; that the 2008 Books Alive selection was a flop. Our bookshop was left with boxes upon boxes of undistributed copies of <i>Bombproof</i>. The second disappointment came when I grabbed a copy and started reading it. Alas; like the promotion that failed to sell it, <i>Bombproof</i> is formulaic, mainstream and uninspired.I was surprised at first. <i>Surely</i>, I thought, <i>this can't be Robotham's best work.</i> Then I found the little note in the front that explained it all: "<i>Bombproof</i> was commissioned exclusively for Books Alive 2008." That's how this book started. Not with any great inspiration on Robotham's part, but with a phone call from the Australia Council for the Arts, 'commissioning' him to write something conventional. Something fast-paced, please, with lots of violence, a bit of sex, and a nice, cheesy, happy ending. That's what people like. And so, while this action-farce may fill all of the above criteria, it still makes for quite an average read.Sure, it has a great premise – but it dawdles for too long before reaching it, and lingers too long after finishing it. The result is that, apart from a tense and highly readable middle section, readers are left with a whole lot of gratuitous sex, violence and drug use. I am shocked to think that I gave this novel to purchasers of such children's books as <i>The Faraway Fairies: Quest for the Crown</i>. To top it all off, sloppy editing has left disappointing typos in quite a few places, particularly in the second half of the novel. Bombproof may be funny, but I've read funnier. It may be fast, but I've read faster. And it may be sexy, but, (being only 17,) I am at least sure that there are sexier books out there.Don't believe what you read on the blurb – <i>Bombproof</i> is one novel you'll put down and quickly forget. But, hey, it's a free book. You get what you pay for.
Review by pharrm
16/06/2015
Sami Macbeth goes from jewel to a forced "heist" because his sister is being held by bad guys who covert Sami's supposed gift to break into safe.
Review by Sharn
27/08/2015
This completes my Michael Robotham novels (other than Life or Death which hasn't been released in the US yet), I've read them all and I must say that I did not expect to find Vincent Ruiz in this book. Yay!Sami MacBeth... one unlucky soul. You couldn't help but like this poor guy. At the beginning of the book he is released from jail after doing close to 3 yrs for a crime he didn't commit; the system failed him. When he gets out, the only person he wants to see is his sister, Nadia, but when he gets to her apartment she's not there, so begins the rest of the story. The hunt to find his sister leaves him with a list of charges so long that if they catch him, he'll be spending the rest of his life behind bars but he vows to never, ever go back. And that's all I'm going to say, you'll have to read it to find out what happens.