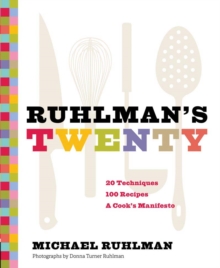 Description
One of the most respected culinary journalists presents the 20 essential cooking techniques he considers crucial to improving anyone's cooking - whether intermediate cook, committed hobbyist, or professional.
The fresh, gorgeous design includes clear and easy to understand process shots for many of the techniques, as well as beautiful colour photographs of the various steps and finished products of each of the 100 recipes.
This book, from one of the category's most influential writers, contains original material with strong backlist potential and cross-over appeal for both the recreational and the professional cook.
Information
Format: Hardback
Pages: 368 pages, illustrations
Publisher: Chronicle Books
Publication Date: 01/08/2011
Category: General cookery & recipes
ISBN: 9780811876438
Free Home Delivery
on all orders
Pick up orders
from local bookshops
Reviews
Showing 1 - 2 of 2 reviews.
Review by 4fish
16/06/2015
Michael Ruhlman would like to make us all better cooks. His latest book, Ruhlman's Twenty, presents 20 ingredients, techniques and ideas to master in pusuit of that goal. To give you an idea of just how basic he gets, the first three chapters are Think, Salt, and Water. His contention is that we tend not to pay attention to these very basic requirements and our cooking suffers because of it, which makes a lot of sense. I tried his method of making chicken stock (from the Water chapter), and I have to say it tastes a lot better than my last effort. The next time I have a lot of onions, I'll be trying his method for caramelized onions, too. I also got some very good tips from the chapter on Acid (think vinegar and lemon juice).It's not going on my wishlist because I think I took away most of what I needed from the library copy I read, but it would be a good basic book for anyone who really wants to improve their skills.
Review by cissa
16/06/2015
I decided to wait until I'd made several things from this book before I reviewed it. Currently I've made lemon confit (though it'll be 10 weeks before I can use it!), pizza dough, bacon-and-egg pizza, roasted shallots, and coq au vin.The pizza was brilliant, even though I managed to overcook it a bit at all possible stages. I am hankering to make it again. Both the pizza itself and the crust are dead easy, and taste wonderful! The crust is crisp, but not at all like a cracker; I have some in the fridge to make tomorrow, because as written, it only takes 3 hours- that's great! but doesn't leave time for the dough to ferment. It'll be interesting to taste how it is after fermenting for a couple of days in the fridge. For the pizza as a whole, the balance of cheese, bacon, and eggs is just perfect and very crave-able.The lemon confit was really easy to make, too. I can't use it yet because it requires 3 months curing, but it worked well. I've done 2 jars: one is conventional lemons, and the other is Meyer lemons. The recipe calls for 2 pounds of salt and one of sugar for 5 lemons; that seems excessive, since mine are going well with 9-10 lemons and 3/8ths the amount of sugar, salt and water.The roasted shallots are like candy; I could eat them all day, but heroically refrained because I need some for the coq au vin, which we just ate and which is rich and flavorful and amazing. It did take me closer to 2 hours than 1 hour to make it, but it's so worth it; it's the best coq au vin I've ever made.But- I didn't buy this just for the recipes. I really love Ruhlman's thoughtful approach to cooking, and the text parts are what I am valuing as I'm reading this. It is not a book of recipes; it's a considered approach about HOW to cook. If you like Cook's Illustrated, Ruhlman is definitely someone to read.My only quibble: more and more, ambitious cookbooks seem to be vying for coffee-table-book status: they are getting huge and heavy and unwieldy. This makes them harder to read- and this one needs to be read- and harder to cook from. I do not care for this trend.Still- I'm about a third of the way through reading it (albeit with difficulty), and have learned a lot from the text- and the recipes I've tried have been spot-on, and I want to make them all again soon.