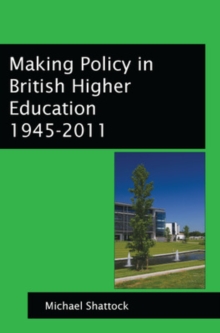 Making Policy in British Higher Education 1945-2011
Paperback / softback
Description
"Every Mike Shattock book on higher education is worth keeping and re-reading.
Making Policy in British Higher Education 1945-2011 is a great story, very readable and full of wry humour.
It is also a profoundly informative work that explains the policy and politics of higher education better than anything else that is available."Professor Simon Marginson, Centre for the Study of Higher Education, University of Melbourne, Australia"As expected, Michael Shattock's mastery of the history of higher education policy-making in the UK is evident in every page - the temptation is to say every paragraph.
This is a demanding analysis. It is packed, precise, judicious and immensely informed ...
As a narrative about how policy-making occurs in the long run, how to read the relevant archival and other documents closely and how to avoid the easy generalizations arising from ideological partis pris, this study is an instant classic."Sheldon Rothblatt, Professor of History Emeritus, University of California, Berkeley, USA"In the last 30 years Britain has experimented with some of the most innovative higher education policies including academic quality assurance, research assessment, income contingent loan financing, tuition policy, information for students, and other efforts to stimulate competitive market forces.
In this highly enlightening, meticulously researched, and fascinating history, university administrator and scholar Michael Shattock examines the individuals and financial policy drivers that have shaped British higher education from World War II to the present day and explores the impacts of these policies on the university sector."David D.
Dill, Professor Emeritus of Public Policy, University of North Carolina at Chapel Hill, USA"Michael Shattock's important new book could not be better timed.
He offers a detailed, nuanced and (above all) intelligent account of policy making in British higher education over the past 60 years ...
This book reminds us that novelty is more often in the eye of the beholder than the historical record.
It also warns us that those who have forgotten past events are often fated to relive them - and that second (or third) time round is rarely an improvement."Peter Scott, Professor of Higher Education Studies, Institute of Education University of London, UKThis book aims to provide an authoritative account of the evolution of policy in British higher education drawing extensively on previously untapped archival sources.
It offers a comprehensive analysis of the policy drivers since 1945 and up to 2011 and of the extent to which even in the so called golden age of university autonomy in the immediate post War period the development of British higher education policy was closely integrated with government policies.
In particular, it highlights how the role of the Treasury in determining the resource base for the expansion of student numbers is key to understanding many of the shifts in policy that occurred.
This close engagement with government coupled with the historical acceptance of institutional autonomy defines the distinctiveness of the British higher education system as compared with other countries.
What the book also shows, however, is that policy was rarely driven directly by Ministers but emerged out of inter relationships between the Treasury, the responsible Department, the intermediary bodies, the higher education representative bodies and the research communities.
The policy process was interactive rather than directed.
The conclusions offer a new interpretation of the development of British higher education.
Information
Format: Paperback / softback
Pages: 280 pages
Publisher: Open University Press
Publication Date: 16/11/2012
Category: Educational strategies & policy
ISBN: 9780335241866
Free Home Delivery
on all orders
Pick up orders
from local bookshops