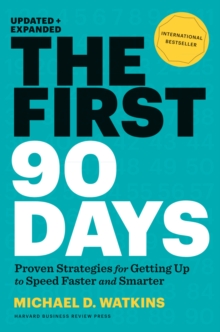 The First 90 Days, Updated and Expanded : Proven Strategies for Getting Up to Speed Faster and Smarter
Hardback
Description
Named one of 100 Leadership & Success Books to Read in a Lifetime by Amazon Editors The world's most trusted guide for leaders in transition Transitions are a critical time for leaders.
In fact, most agree that moving into a new role is the biggest challenge a manager will face.
While transitions offer a chance to start fresh and make needed changes in an organization, they also place leaders in a position of acute vulnerability.
Missteps made during the crucial first three months in a new role can jeopardize or even derail your success. In this updated and expanded version of the international bestseller The First 90 Days, Michael D.
Watkins offers proven strategies for conquering the challenges of transitions--no matter where you are in your career.
Watkins, a noted expert on leadership transitions and adviser to senior leaders in all types of organizations, also addresses today's increasingly demanding professional landscape, where managers face not only more frequent transitions but also steeper expectations once they step into their new jobs. By walking you through every aspect of the transition scenario, Watkins identifies the most common pitfalls new leaders encounter and provides the tools and strategies you need to avoid them.
You'll learn how to secure critical early wins, an important first step in establishing yourself in your new role.
Each chapter also includes checklists, practical tools, and self-assessments to help you assimilate key lessons and apply them to your own situation. Whether you're starting a new job, being promoted from within, embarking on an overseas assignment, or being tapped as CEO, how you manage your transition will determine whether you succeed or fail.
Use this book as your trusted guide.
Information
Format: Hardback
Pages: 304 pages, Illustrations
Publisher: Harvard Business Review Press
Publication Date: 14/05/2012
Category: Advice on careers & achieving success
ISBN: 9781422188613
Free Home Delivery
on all orders
Pick up orders
from local bookshops
Reviews
Showing 1 - 2 of 2 reviews.
Review by Meggo
27/08/2015
I was given this book on day 80 of my new job, which meant that I had to hope like hell that I had not, in fact, already screwed up the first 80 days of my first 90. Full of generally practical advice, it is perhaps not the most innovative or frame-breaking business book I have ever read, but it is a useful read for anyone starting a new venture.
Review by justindtapp
16/06/2015
This is a really useful book filled with sage advice for anyone assuming a leadership position, particularly as a former outsider to the organization. It's filled with reminders that you don't walk in with "the answer," that instead winning the trust and respect of your cohorts is a learning process that you should begin with great intensity. The first half of the book relates directly to someone who is assuming a management role, the next quarter of the book is about what to do as a new employee serving under a boss or bosses (perhaps as a mid-level manager). The last bit of the book gives a brief introduction to strategic thinking and the book concludes with questions to ask yourself (and your family) in evaluating your transition. It is applicable to any firm, church, non-profit, and even (mostly) the government.<br/><br/>Here's a summary of the points I gleaned:<br/> - Establish your integrity in first 30 days.<br/> - Learn all you can about the organization, put on your "historian" hat.<br/> - Don't suggest changes without examining what has been done previously.<br/> - Silence is not accession.<br/> - Meet with everyone in the organization to evaluate their expectations. Ask them what they think you should focus on.<br/> - Ask same questions of all so no one treated different and you have a cross-section.<br/> - Look for "early wins," low-hanging fruit of improvements you can make or other things to boost morale.<br/> <br/>Dealing with your boss in the first 30 days:<br/> - Be proactive, assume it's on your shoulders to build the relationship and get the support you need.<br/> - Schedule meetings to discuss expectations, evaluations, and personal development.<br/> - Figure out what would give your boss "early wins." Make his priorities your priorities.<br/> - Be proactive in doing things that will allow your boss to hear from people he trusts that you're a good worker.<br/> - Don't bring your boss bad news early, at least without bringing good news too.<br/> - Don't assume he will change. He has a style, foibles, accept them and work around then and move on. You can learn a lot from a bad boss, and you will likely have many.<br/> - Examine how others relate to your boss and how he responds.<br/> <br/>Strategy<br/> - Begin figuring out who you need to move off your team immediately, whose roles need to change, and who you need to evaluate further.<br/> - Think strategically. After your first 90 days you should be able to present a plan that is actionable.<br/> - Evaluate the vision of the organization, its values, and use SWOT analysis.<br/> <br/>Ask yourself feedback questions every week.<br/> - What isn't going well. Why? What can you change?<br/> - What are you least happy about. What can you change about it?<br/> - What meeting troubled you the most? ""<br/> - What conflict needs to be most resolved? ""<br/><br/>Family also has to be considered. How is your new role and time commitment affecting your family? Was the move worth it?<br/><br/>The author doesn't state it like this, but focus on doing what's best next.<br/><br/>I give this book 4.5 stars out of 5. I highly recommend it.