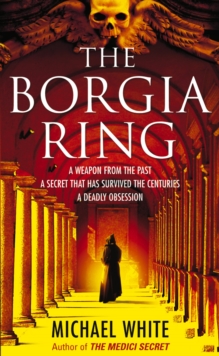 The Borgia Ring
Paperback
Description
When a blackened skeleton is unearthed on a building site in the City of London, no one can have the slightest idea of its extraordinary link to a plot to assassinate the Queen of Englandover 500 years ago. But there is one very conspicuous clue. On the index finger of the body's right hand is a gold ring topped with a brilliant, round emerald. DCI Jack Pendragon has just transferred from Oxford to Brick Lane Police Station - in part to escape his own past.
Immediately, he finds himself investigating three particularly gruesome murders. And he will need all the experience he has acquired from two decades on the force to track down a killer for whom an eerie obsession has become total madness.
A killer who draws his murderous inspiration from a Renaissance family whose power and cruelty remain a living legend.
Information
Format: Paperback
Pages: 480 pages
Publisher: Cornerstone
Publication Date: 30/05/2009
Category: Crime & mystery
ISBN: 9780099536291
Free Home Delivery
on all orders
Pick up orders
from local bookshops
Reviews
Showing 1 - 1 of 1 reviews.
Review by austcrimefiction
16/06/2015
A combination of past and present storylines, throw in some some ancient religious elements, and publishers can't seem to stop themselves from doing the "If you like Dan Brown... line". Whilst fans of Dan Brown could very well find this book appealing, non-fans shouldn't necessarily regard the attribution as a warning flag.DCI Jack Pendragon arrives at Brick Lane police station, and is immediately thrown into the search for a killer who seems to have a touch of madness about him. Unknown to Pendragon there's a history to the ancient skeleton that was found on a building site in the City of London. There's even more of a history to the ring that was briefly seen on the finger of the body before it disappeared, the same night that a young security guard was killed and his body disposed of in a particularly bizarre manner. The storylines swap between the history of how the Borgia's ring got to London, and the present day murder investigation with it's predictable elements of pressure from on-high and the need to stop a killer before more people die. THE BORGIA RING absolutely has that feeling of a thriller in search of a TV script about it, but if that's the sort of experience you're after, despite some stereotypical characters and some very predictable plot lines, the book does work as a piece of good, fun entertainment. There's some very nice touches in the historical storyline with Elizabethan luminaries playing nice little cameos, up to and including Elizabeth the first. The whole background to how Lucrezia Borgia's ring got to London had quite a believable feel to it, but just as a warning - the gore factor is on the high side - both in the way that people die in the current, and some of the less than savoury goings on in the Borgia family.All in all THE BORGIA RING is a good example of what it is - one of those thrillers where the mad and bad from history just will not stay in the past.