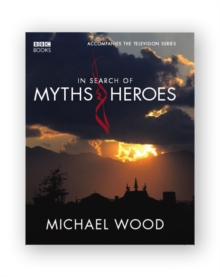 In Search of Myths and Heroes
Hardback
Description
In this entrancing new book, historian Michael Wood journeys to some of the remotest places on earth in search of four of our most powerful myths: Shangri-La, Jason and the Golden Fleece, the Queen of Sheba and King Arthur.
His adventures take him from the fantastic landscapes of Tibet and the mountains of Georgia to the coasts of Ethiopa and Yemen.
Michael asks why these famous legends still captivate us as he goes in search not just of the historical past and literal truth but also the mythic past. In the first of these journeys, Michael investigates the legend of the hidden valley of Shangri-La - a place where the ancient wisdom of humanity is preserved for future ages - immortalized in James Hilton's novel and Frank Capra's Hollywood movie.
The Greek legend of Jason's search for the Golden Fleece is the ultimate quest, older even than Homer's Iliad and Odyssey - but was there really an expedition beyond the limits of the known world back in the mists of prehistory, before the Trojan War?Travelling from Jerusalem to the Horn of Africa, Michael uncovers the legends of the Queen of Sheba, King Solomon and the Ark of the Covenant, stories found in the Jewish and Christian Bible, the Ethiopian Book of Kings and the Muslim Koran.
FInally, Michael travels through the Celtic countries of the British Isles in search of the tales of King Arthur, the Knights of the Round Table and the Holy Grail.
Where do these stories come from? And why are we still fascinated by the once and future king?Illustrated with a wonderful series of specially commissioned photographs by the Himalayan photographer and mountaineer Steve Razzetti, In Search of Myths and Heroes is at once a book of great journeys, a historical adventure and an exploration of some of humanity's most enduring myths.
Information
Format: Hardback
Pages: 272 pages
Publisher: Ebury Publishing
Publication Date: 04/02/2005
Category: General & world history
ISBN: 9780563521877
Free Home Delivery
on all orders
Pick up orders
from local bookshops