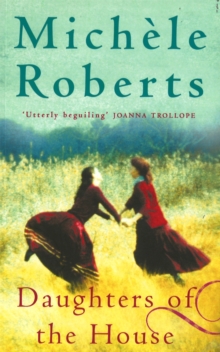 Daughters of the House
Paperback
Description
Shortlisted for the Booker PrizeSecrets and lies linger in the very walls of the solid old Normandy house where Therese and Leonie, French and English cousins, grow up after the war.
Intrigued by adults' guilty silences and the broken shrine they find in the woods, the girls weave their own fantasies, unwittingly revealing the village's buried shame, a shame that will haunt them both for the rest of their lives.
Information
Format: Paperback
Pages: 192 pages
Publisher: Little, Brown Book Group
Publication Date: 11/03/1993
ISBN: 9781853816000
Free Home Delivery
on all orders
Pick up orders
from local bookshops
Reviews
Showing 1 - 3 of 3 reviews.
Review by wyvernfriend
16/06/2015
Secrets and lies and post-war france. Honestly the only reason I finished it was because it was so short. I also kept hoping that it would get to the point, but it never did.
Review by isabelx
16/06/2015
I'll be the lion, Léonie said; bags I the lion.First she posed as a Roman centurion and did a bit of torture. It was a way of working herself up to full ferocity. She stretched Thérèse on the rack until her bones cracked, tore off her breasts with red-hot pincers, then flogged her with twigs and broke her on the wheel. Thérèse refused to stop being a Christian. Her punishment for this was to be thrown into the arena. To be torn apart by wild animals.The first time they tried out death in the arena the Christian got infected by the general blood lust and bit the lion. Léonie rubbed her arm, very cross.You've got to die without making any fuss. That's the whole point.During the 1950s, half-English Léonie and her French mother Madeleine, come to France to stay for the school holidays to stay on the farm that is jointly owned by Madeleine and her sister Antoinette. Léonie and her cousin Thérèse were born just a week apart and are very close. They are best friends, rivals and sometime enemies whose games are haunted by religion, family illness and secrets dating back to the war.After twenty years as a contemplative nun, Thérèse returns to the farm, now occupied by Léonie and her family. The women are wary of each other, remembering lies told in the past and concerned about whose version of their shared history will be believed.
Review by StellaSandberg
16/06/2015
I enjoyed Roberts' sensual, richly textured, sometimes gross, descriptions of object and bodily functions - that's a very original way to write that made me want to explore more of her work! Unfortunately, I did not particularly enjoy the characters, the psychology (or should I say psychoanalysis because that's so obviously what it was), the religion or the plot. Two stars for that and four stars for the lovingly detailed props and settings and all the mouth-watering eating make three stars all in all.