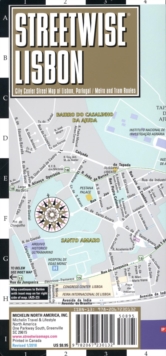 Streetwise Lisbon Map - Laminated City Center Street Map of Lisbon, Portugal
Sheet map, folded
Description
REVISED 2018 Streetwise Lisbon Map - Laminated City Center Street Map of Lisbon, Portugal.
The accordion-fold pocket size travel map includes an integrated surface tram & metro stations.
Coverage includes: Main Lisbon Map 1:8,000 Belem Inset Map 1:8,000 Central Lisbon North Map 1:8,000 Lisbon Area Map 1:46,000 Lisbon Regional Map 1:340,000 Portugal Map 1:3,000,000Dimensions: 4" x 8.5" folded, 8.5" x 32" unfolded Lisbon, benefiting from an influx of funding from the EU, has reemerged on the world stage as a destination for those seeking the cultural experience of Southern Europe.
While it still has a patina of wear and retains an air of shabby chic, renovation and new development are mixing the past with the present to create an alluring juxtaposition of hip boutique hotels in old medieval quarters.
The magnificent Praca do Commercial by the river Tejo is the center of the city and reflects the atmosphere of this historic maritime center.
Heading east, you'll walk through the Alfama with its Moorish past, and up the rising hillside to the dominating presence of the castle of St.
George. The pastel houses of the Bairro Alto line up like sunwashed Easter eggs.
There's a terrific panoramic view from the park on Rua de San Pedro that shouldn't be missed.
Additional must see visits are to the Calouste Gulbenkian Foundation, with one of the best art collections in Europe, and to Belem to see the Cultural Centre, and the Mosteiro dos Jeronimos, the monastery commemorating Portugal s seagoing superiority.
Take the metro D line or a taxi up to the Parque das Nacoes, home of Expo 98 and now a splendid outdoor vista with shops, restaurants and one of the most stunning Aquariums on earth, the Oceanarium.
The STREETWISE(R) Lisbon map, including the Lisbon Area map, pulls all of these sites plus hotels, and metro stations together to help you navigate and enjoy your visit to Lisbon.
The Lisbon Region map will guide you on day trips west of the city along the beautiful Costa Estoril to Cascais, Estoril and Sintra. And finally, a map of Portugal facilitates further exploration of the beautiful countryside.
Our pocket size map of Lisbon is laminated for durability and accordion folding for effortless use.
To enhance your visit to Lisbon, check out the Michelin Green Guide to Portugal which details sites and attractions using the famed Michelin star-rating system so you can prioritize your trip based on your time and interest.
For a selection of the best restaurants and hotels, buy the red MICHELIN Guide Main Cities of Europe.
Information
Format: Sheet map, folded
Pages: 1 pages
Publisher: Michelin Editions des Voyages
Publication Date: 15/02/2018
Category: Travel & holiday guides
ISBN: 9782067230132
Also in the Michelin Streetwise Maps series | View all