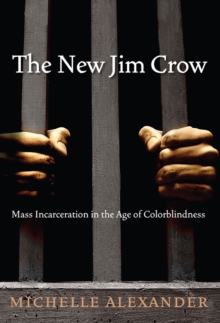 The New Jim Crow
Paperback
Information
Format: Paperback
Pages: 312 pages
Publisher: The New Press
Publication Date: 16/01/2012
Category: Crime & criminology
ISBN: 9781595586438
Free Home Delivery
on all orders
Pick up orders
from local bookshops
Reviews
Showing 1 - 3 of 3 reviews.
Review by RidgewayGirl
16/06/2015
This isn't an easy book to read, but it's important for Americans to read it. In it, Michelle Alexander sets out a convincing claim that our War on Drugs has resulted in shocking injustice. While the percentage of people who have used illicit drugs to some extent or another is the same across all groups of Americans, law enforcement has concentrated on African Americans to the point where they account for up to 90% of those charged. In low-income neighborhoods, being stopped and searched by police is a routine occurrence for young men and there are regular drug sweeps that pull the innocent as well as the guilty into the justice system. The justice system itself is skewed against low-income African American defendants. Until recently, possession of crack cocaine was sentenced at 100 time the length of sentences for powder cocaine, which is seen as the drug of choice for white people. It's now sentenced at an 18-to-1 ratio. Harsh drug laws require judges to give first time offenders who were caught with a small amount of drugs, including marijuana, to custodial sentences of five years, longer than that received by those convicted of violent assault or drunk driving. Police department funding depends on drug arrests for both financing and equipment, and has led to a 2000% increase in the number of people imprisoned as compared to the 1970s. And the problem isn't solved when people leave prison. Felons are ineligible for public housing. They can't vote or serve on juries. It's almost impossible for them to find a job. We've created an underclass barred from participating in society, from supporting their families, from being a useful member of society. And that underclass is overwhelmingly composed of African American men. This is a largely invisible problem, hidden from all but the family members of the incarcerated. The focus is on the War on Drugs, which isn't racist in and of itself, it's just that it's more efficient to scoop up people from high density urban ghettos. And if middle-class white Americans were subject to the same tactics, there would be an outcry. Alexander makes a solid case, but also presents the beginnings of a solution. While <i>The New Jim Crow</i> is a difficult book to read, it does start a conversation that we need to have.
Review by barlow304
27/08/2015
Professor Alexander's sweeping denunciation and expose of the evils of mass incarceration bring nothing to mind so much as Victor Hugo's Les Miserables. Like Jean Valjean, a minority kid busted on a minor drug charge ends up as a felon in prison, then an outcast from our society. Laws and policies deprive him of the right to vote, of public assistance, and even of housing. Mass incarceration is leading to a new racial caste system.But the author goes farther, showing how the misguided War of Drugs has unleashed a militarized police force against poor people of color. At the same time, drug crimes committed by suburban white people largely go unpunished. When detected, white drug offenders are much more likely to be sentenced in state court, where the penalties are much less severe than in the federal system. Alexander argues that the war of drugs would stop tomorrow if it were pursued in white suburbia as diligently as it is in poor communities of color.
Review by kaulsu
10/11/2015
It took me three years to finish this book--but that really doesn't say much in itself.In the beginning, I found it troublesome to read because of my ignorance. At the end, I found it repetitive. Alright! I get it! But even the ending had factual matter that I wasn't aware of.This IS a book that all of us should read. ALL, as in everyone. No demographic gets a free pass, since, as Alexander so hammers into our heads, there is NO ethnic group, social class, or economic stratum that is untouched by this fact of American society.
Also by Michelle Alexander