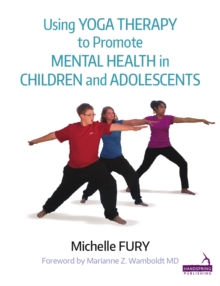 Using Yoga Therapy to Promote Mental Health in Children and Adolescents
Paperback / softback
Description
The intention for this book is to outline a framework of clinical yoga therapy practice that addresses the whole child, rather than solely their symptoms.
As such, collections of behaviors and clinical symptoms that have tended to co-occur in children will be addressed.
The book will explore at least five developmental stages in the growth of children and adolescents, and general guidelines of how to adapt yoga practices for children of different ages and stages.
Individuals of any age who suffer from chronic pain deal with a mind-body crisis on a regular basis.
The book will explore the all-consuming effects of chronic pain and how children at different ages can learn to cope with it.
Yoga for mood regulation in general will be covered and as well as how to differentially apply yoga techniques when the child/teen is experiencing primarily depressive or anxious symptomatology, or eating disorders.
Yoga practices for trauma will be covered by age group, since the experience of trauma is radically different from one age to the next.Sensory integration and developmental disabilities will be addressed and illustrations will be used to assist the clinician in developing yoga practices that help child/teen integrate sensory experience. Yoga practices that involve kinesthetic, auditory and visual repetition help these kids stay connected to the world around them, and bring relief from the hallucinations.
A Practice Library will be a visual index of all asanas, pranayamas, and other yoga practices discussed throughout the book and the Index will cover both psychological and yogic terms used in the book.
Information
Format: Paperback / softback
Pages: 144 pages, 103
Publisher: Handspring Publishing Limited
Publication Date: 12/05/2015
Category: Paediatric medicine
ISBN: 9781909141193