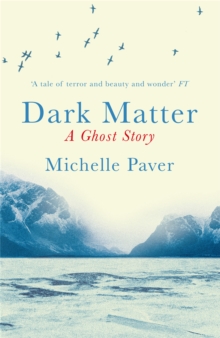 Description
A terrifying 1930s ghost story set in the haunting wilderness of the far north.
January 1937. Clouds of war are gathering over a fogbound London. Twenty-eight year old Jack is poor, lonely and desperate to change his life.
So when he's offered the chance to join an Arctic expedition, he jumps at it.
Spirits are high as the ship leaves Norway: five men and eight huskies, crossing the Barents Sea by the light of the midnight sun.
At last they reach the remote, uninhabited bay where they will camp for the next year. Gruhuken.But the Arctic summer is brief. As night returns to claim the land, Jack feels a creeping unease.
One by one, his companions are forced to leave. He faces a stark choice. Stay or go. Soon he will see the last of the sun, as the polar night engulfs the camp in months of darkness.
Soon he will reach the point of no return - when the sea will freeze, making escape impossible. And Gruhuken is not uninhabited. Jack is not alone. Something walks there in the dark...
Information
Format: Paperback
Pages: 288 pages
Publisher: Orion Publishing Co
Publication Date: 01/09/2011
Category: Horror & ghost stories
ISBN: 9781409121183
Free Home Delivery
on all orders
Pick up orders
from local bookshops
Reviews
Showing 1 - 5 of 11 reviews.
Previous | Next
Review by clfisha
16/06/2015
If you like quiet, creepy, horror and stories set in the cold, dark Artic then this book is for you, it is a perfect example of the genre.It's 1937 and 28 year old Jack is offered the life saving position of a wireless operator, part of scientific exhibition that will winter in the empty, isolated, unloved bay of Gruhukan…<i>Out of nowhere, for no reason, I was afraid.My skin prickled. My heart thudded in my throat.My body knew before I did that I was not alone.Thirty yards away on the rocks, something moved</i>Carefully and tenderly setup, the plot crafted so well, not only to make everything believable but also to slowly whittle way the readers sense of comfort and surety, because when the permanent darkness starts to becomes imminent you realise you are on tenterhooks, bearing witness to what is becoming an untenable and terrifying situation. You start to ask yourself as the deadline becomes nearer what would you do alone and in the dark? Using the trope of an old diary works very well, not only to get into the wonderfully portrayed main character's head, but also the slow unfurling knowledge of the others. Paver also uses it to playfully leave the question of haunting or insanity carefully open, both unsettling concepts but the reality of insanity grounds the supernatural and provides much need edginess. She is judicious in what should be left unsaid.Compliment these strength with the some lovely writing (the descriptions on the landscape are great) then you get a very good book. Sadly it drops a few marks for (minor spoiler) a overly crafted and somewhat harried denouement (minor spoilier ends)Still I highly recommend it to lovers of creepy stories.
Review by DeltaQueen50
16/06/2015
I don't read many ghost stories, mostly because it is hard to find a good one, but Dark Matter by Michelle Paver is that wonderful exception, a great ghost story that is both scary and believable. I was glued to the pages as this dark, chilling story unwound. Set in 1937, it tells the story of a small group of young men who are on a scientific expedition to the Norwegian arctic, to a remote island area called Gruhuken. As daylight gradually disappears and the dark grows longer, things start to happen and eventually there is only one member left at camp. Alone except for the company of sled dogs, he feels more and more isolated as he senses a malignant presence growing ever closer. The author kept tight control of her story, allowing the readers' dread and panic to grow along with the main characters'. The setting with it's isolation and stark landscapes bring an additional element to the story that helps with the creeping terror. Reminiscent of a classic ghost story, the author keeps it subtle and is able to impart horror with the simple use of a shadowy movement or the sound of a wave lapping the shore. My only complaint is that I felt the ending was a little rushed but, I guarantee you'll want to keep the lights on while reading this one. If you are looking for a well done ghost story, I recommend Dark Matter.
Review by FrogPrincessuk
16/06/2015
This is a seriously creepy book about some early Arctic explorers. This makes it very different from any other ghost story that I've read, and gives it a fresh feel.In short, it tells the tale of what happens to people's minds in the depths of winter, in solitude, miles from anywhere, surrounded by 24/7 darkness. A great read.
Review by Tim.Goblin
16/06/2015
My first Amazon purchase for the Kindle which I happily received for the festive season. I recall seeing this title in a "recommended reads" section and since my tastes in fiction favor Sci-fi, I was drawn to looking closer at this book on the title alone.Whilst this book is not about the mysterious "dark matter" which scientists are discussing with feverishness today, it does draw parallels - that which exists yet is unseen and the title itself, "Dark Matter" can have a double meaning begging the question, should a place be witness to a terrible event, what remains?Dark Matter is a journey into the depths of despair, paranoia and imagined peril, making exploring mans need for companionship, the need to rationalize unexplained events and the self reassurance most people indulge in during their lives.I loved this book and despite it probably being far removed from my preferred reading subject (Wizards, Warriors and Dragons to battles in the distant future) I wholeheartedly recommend it - I couldn't put it down, neither will you.
Review by saibancho
16/06/2015
Very disappointing. I am not going to pull any punches with this review. I hated this book. Mawkish drivel masquerading as horror. H.P. Lovecraft would be turning in his sepulchre. I was looking forward to a decent Ghost Story but this was two dimensional and pretty poorly executed. It's a let down for so many reasons. Poor characters. Annoying use of OK, and other terms which just don't sit with the time and English young men of 1937. The term 'alright' or right-ho or right. Would have been much more natural for the time. I was half expecting Jack to say 'Dude! Like this place is haunted!' Very teenage. One minute the language is all 'spiffy, what-ho?, ripping etc' in over lathered attempt to give it period feel I suppose but ends up sounding like Richmal Compton (and that's a sort of insult to Compton) and then f..k.! etc! It would be extremely out of character for anyone above the social level of working class to use the word 'fucking!'. Even in the midst of the carnage of the First World War, the worst any rank above private would have used in a moment of stress would have been 'Bloody' or possibly bastard, or damn' almost never the F word. This sticks out like a sore thumb and shows the author has little understanding of the speech tropes of the inter war period in Britain amongst reasonably well brought-up middle class men, chaps in fact! It just isn't right.Its a very unbalanced novel in that sense and comes across as a 21st century writer trying (and failing) to set a story in a 1930s which frankly only exists in her badly researched imagination. Quite annoying. Jack is more like Jaqueline..priggish and silly (saying OK all the time and thinking aloud so the reader can 'get' the atmosphere and horror (sheesh!), this 2D character just doesn't come across as a convincing male and I should know (I have been a 28 year old man - this is more like Ken from Ken and Barbie).It is a badly written attempt at a male character by an author who has let herself into the character too much. If you look at Susan Hill's The Woman in Black, the male protagonist is done totally convincingly, its beleiveable because the writer has erased herself - that surely is the mark of good ghost story writing, The reader should be made to forget that it's an author's fiction they are reading and become engrossed in the properly researched and tautly written unsentimental but still passionate story. Horror should be very subtle and heavy at the most pivotal moment - otherwise when its telegraphed so heavily as it is in Dark Matter - it ends up being a very annoying join the dots affair.Wooden plot devices and many missed opportunities compound the idiocy of this book. Gus gets appendicitis - and so two of the characters conveniently disappear for a couple of weeks while Jack gets down to some serious 'being haunted' and talking in a silly voice to his 'Journal' sounding like a 10 year old girls confessional!. Why couldnt they have returned to the camp with others after the op? This sucks. There were so many places where this could have been more scary but instead was damp squib. If this is horror, you need a walk on the literary wild side badly! The wireless messages could have been taken over by a supernatural force, the figure could have been much better and more menacing rather than a pastiche of Marion Crawfords Man Overboard. The dogs could have become possessed or taken over by the sprits etc..anything other than the wooden fare we get in Dark Matter.It's a paste job done by somebody who has done the research (badly) and the 'travel' and thought that this would be a great atmospheric story. I should have known from the glittery blue styling on the cover of the paperback version, which seems to be code for Chick Book alert - grab your chocolate bar and put Oprah on record!This is poor 'method' writing. Author travels around the cold wastes too get a feel of the atmosphere, goes back to study and write the novel - we can even see a photo of the first draft wrapped up in a ribbon (For crying out loud - Look at me - I'm a WRITER! it screams). Edgar Allan Poe did not tramp around Paris to write the Murders in the Rue Morgue, or personally experience being swallowed up by the waters from below to pen A Descent into The Maelstrom for that matter - he just wrote well and used his imagination. Something lacking in this wooden attempt. Don't get me started on the title. Whatever research she may have done, Dark Matter as an obscure scientific idea (not taken up as viable at the time by the scientific community or peer media) would definitely not have been familiar to a bunch of semi amateur explorer-scientists, middle class or otherwise. Aaargh! This book is so annoyingly bad!If you have read MR James, Algernon Blackwood, Ambrose Bierce, H.P. Lovecraft and then come up with this, then frankly, you need to back to the drawing board. Supremely mediocre