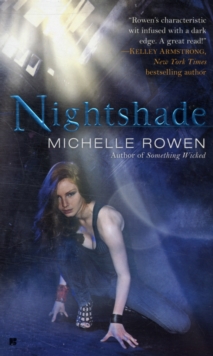 Information
Format: Paperback
Pages: 352 pages
Publisher: Penguin Putnam Inc
Publication Date: 05/02/2011
Category: Romance
ISBN: 9780425239827
Free Home Delivery
on all orders
Pick up orders
from local bookshops
Reviews
Showing 1 - 5 of 6 reviews.
Previous | Next
Review by krau0098
16/06/2015
This is the first book in Rowen's Jillian Conrad series. There are going to be at least two books in this series; the 2nd will be titled Bloodlust and is scheduled for a July 2011 release date. I have read some of Michelle Rowen's series previously and enjoyed them. I really loved her Demon Princess series and was excited to read a new series by her that was aimed more at urban fantasy than romance. This was a very entertaining read, it was quick and fun.Jillian (Jill to her friends) is just trying to get some coffee and get back to work. She is grabbed by a man in an elevator and injected with something; next thing she knows she is being kidnapped by a large scarred man who is telling her she's been injected with a poison that normal hospitals won't be able to do anything about. Jill agrees (kind of) to go with him and ends up having her eyes opened to a world where vampires are real and are definitely not the nice guys.This book was a fast and fun read. Jillian is a wonderful character: she is practical, sarcastic, noisy, and surprisingly resilient given that she is an unsuspecting victim to all that is going on. The plot is solid and engaging if not completely original. The beginning of this book especially reminded me of Gena Showalter's Playing With Fire.Declan is an interesting character who is forced to take a serum to subdue his vampiric nature. As the male lead he is a bit on and off; at points he is endearing and at others not. Him and Jill have okay chemistry together, but it was never really something that blew me off my feet. I have definitely read about better female/male match-ups. That being said their relationship was okay, and they were fun to read about.There is quite a bit of action in this book, making it more of an urban fantasy/paranormal romance blend than straight up romance. Rowen's writing style is easy to read and the dialogue between characters is snappy and fun. The book wraps things up nicely while still leaving some things un-resolved for the next book.Overall a solid and fun read; equal parts urban fantasy and paranormal romance. Jillian is a wonderful character, as is Declan. The chemistry between the two could have been better but they were still a lot of fun to read about. I love Rowen's writing style it is so easy and fun to read. I will definitely be picking up Bloodlust when it comes out. Recommended for readers who like books about dhampirs, strong women caught in unsuspecting situations, and paranormal romance that tends toward urban fantasy.
Review by ABookwormsHaven
16/06/2015
I started reading this book after finishing up another one, so it was later in the day and I thought I might be able to get halfway through before I had to go to bed that night. After a while I took a break to check the time and I was on page 220 out of 325. I had no idea I had gotten that far into the book. I was so sucked into all the action I hardly came up for air. You are thrown into fast paced action right from the beginning of this book so the pages just seem to fly by.Our main character, Jillian, is on a coffee run when she ends up in the middle of a fight between a scientist and a mystery man wielding a gun. Jillian ends up getting injected with serum the scientist is trying to protect and is thrust into a world she never wanted to be a part of. Dragging her kicking and screaming into that world would be Declan, a dhampir assassin who seems to be a cold hearted killer. However, things are not always what they appear to be in this world, especially Declan.Another reason I love this book? No fluff. Meaning, there is nothing there that is not necessary and adding to the story. I had just enough information to keep me from feeling lost, but not enough that I did not have to read more to be satisfied.The vampires in this story were another interesting element. They do have many common vampire characteristics, they drink blood, they are pretty hard to kill, but they can be out in sunlight. That is if they want their eyes burned out of their skulls, pretty picture right? The vampire mythology in Nightshade was very interesting and I enjoyed seeing a different element to the vamps in this world. It kept me intrigued and it differentiated Michelle's vampires from those in other worlds.My favorite thing about this book though was the relationship between the two main characters, Jillian and Declan. They start out as kidnapper and victim but of course, that does not last too long. I relished watching Jillian break down Declan's barriers and help him to see what kind of life he is really living. The chemistry between them is undeniable, even in the beginning, and watching them struggle through it was fantastic.Overall Nightshade is a fantastic first edition to the series! Michelle has done a wonderful job of weaving a story so full of mystery and intrigue the reader is left not knowing who to trust or what is going to happen next. I ate up every second of trying to discover the truth behind the lies and I am now completely in love with this world. At the end of the book you are left with just enough information that you can walk away happy, but not enough that you will be able to resist reading more when the next book, Bloodlust, hits the shelves later this year.
Review by pollywannabook
16/06/2015
Review courtesy of All Things Urban FantasyConfession time: I'm a huge fan of Martin Short. I love all those stupid comedies he made in the 80's including one starring Dennis Quaid and Meg Ryan called Innerspace. In the movie Martin gets accosted by a scientist exiting an elevator (who's being chased by an assassin) and injected with the contents of top secret experiment after which the assassin shoots the scientist and pursues Martin. Why am I telling you this? Because that's the exact same opening scene of NIGHSHADE, except instead of a micronized Dennis Quaid, Jillian is injected with a formula that makes her irresistible—and deadly—to vampires. My hands down favorite thing about NIGHSHADE was the surprising turn (or should I say turns?) that the romance took. The guys in this book do not start out as shiny and drool worthy—they are monsters. Harsh, uncaring, debauched monsters. And I didn't see them coming. I kept waiting for the 'real' love interest to show up and didn't even notice how the monsters snuck up on me until they were no longer monsters in my eyes. Hats off to Michele Rowen for the skillful turnabout that I bought completely. I wonder what it says about me that I preferred the monster side of Declan to the more human version. He acted a bit 'neutered' for lack of a better word when he was off his vamp-suppressing meds. I also did not get how he went from almost attacking Jillian one minute because he couldn't control his desires to essentially having to be coerced through every single step of the first sexual encounter with her. She's supposed to be vampire heroin in every sense of the word and he had to be literally dragged to her bed protesting the whole time. I was expecting/hoping for something more there. The beginning of NIGHSHADE is excellent, the middle is a bit lackluster, but the ending was strong and nicely set up the future for this series. The good news is you don't have to wait even another day to read more about Jillian. Her story continues in the anthology PRIMAL that released on February 1st. The next full length Nightshade novel is called BLOODLUST and will be published on July 5, 2011. Off to read PRIMAL.Sexual Content: A couple moderately graphic sex scenes. References to rape.
Review by DarkFaerieTales
16/06/2015
Quick & Dirty: This compelling, frightening, and well-written urban fantasy will have you begging for the next installment.Opening Sentence: Life as I knew it ended at half past eleven on a Tuesday morning.The Review:Jillian Conrad had a particularly bad day at the office. In the midst of a coffee run, she is caught between a gun wielding, dangerous looking Declan Reyes, and a stark raving mad scientist. The mad scientist injects Jillian with a deadly serum. Greatly displeased by this turn of events, Declan kills the scientist. Declan needed that serum to help destroy the undead kingdom. With no choice left but to flee the scene of the crime, Declan kidnaps Jillian because she now has the serum he needs coursing through her veins. This unlikely pair embarks on a deadly adventure to destroy the vampire king and unbeknownst to them, save each other in the process.This is the first novel I've read by Ms. Rowen, and I have to say - I'm hooked. I love her writing style, and ability to craft a captivating, fast-paced story. Ms. Rowen succeeds in blending a bit of romance into this unconventional story, making Nightshade an extremely satisfying read.While some of the treachery and betrayal was predictable, it didn't detract from my enjoyment of the story. Interesting secondary characters add depth to this captivating world. The vampire mythology and worldbuilding are fantastic. Ms. Rowen's take on Dhampyr's is particularly riveting.Jillian's character surprised me in many ways. She doesn't have any hidden talents or latent powers upon which to rely. Jillian only has her wits and determination to help her survive against a dark and dangerous backdrop where vampires and their enemies rule. Jillian is a strong female character that is forced to adapt quickly to deadly surroundings. She has a tough journey ahead of her, and I'm looking forward to seeing her grow into her role as heroine.Declan Reyes isn't your conventional urban fantasy heartthrob; handsome beyond all reason with very little physical flaws - yeah not so much. I love his complexity. Declan still manages to be sexy even with his imperfections.Overall, Nightshade is a thrilling urban fantasy. Pulse-pounding action and strong characters breathe life into the story, and will grab you from page one. Nightshade is a great start to a very promising new urban fantasy series. One taste is all it takes, and I can hardly wait for the second installment, Bloodlust, to hit shelves on July 5, 2011.Notable Scene:Terror coursed through me.But it was only the beginning. After inhaling my scent and sliding his cool, wet tongue over my throat for a few seconds, seconds during which I whimpered and clawed at him and tried to break free, I felt the sharp tips of his fangs press against my skin.Declan, please...help me...I wasn't sure if I said it aloud or only thought it. Either way, he didn't help. He didn't burst into the room to save me.And then I felt the pain.I screamed and kicked as the vampire pierced my skin and sank his fangs deep into my throat. The next moment it felt as if I'd been paralyzed. I couldn't move anymore, couldn't fight against him. But I could still feel everything.The pain was acute; deep and searing, like twin blades digging into my flesh. Then there was the equally horrible sound of slurping as he began to drink my blood. His hand, which had been stroking between my legs quickly moved to undo the top button of my pants and greedily slip inside.And I couldn't move. I couldn't beg for him to stop. At that moment, I couldn't even scream.The Nightshade Series:1. Nightshade2. BloodlustFTC Advisory: The author provided me with a copy of Nightshade. No goody bags, sponsorships, "material connections," or bribes were exchanged for my review. In addition, I don't receive affiliate fees for anything purchased via links from my site.
Review by blodeuedd
16/06/2015
This book just got better and better. First it was ok, then good, and that the end I did not want to let go of the people and the world.Jillian lives a normal life in a normal world, until the day a freaky professor injects her with poison and then she gets kidnaps by one scary looking guy. She is scared, but she is also tough, and I liked that about her. She had to adjust quickly as she learnt that there are evil vampires out there and she now cos of the serum is poison to them. The government has plans for her.Then there is Declan, the love interest of course. But he is one cold man, a half-vampire who does what he is told. But even in his bad moods I liked him. And then I liked him some more.The book kept surprising me too, things are not what they seem to be. And even the Good Guys can do bad things.The book has a romance building up, ok more lust and friendship at the beginning, but it's changing. There is some action, scary laboratories, and some crazy dhampyrs that would rip your throat off if they could. The book keeps building up this intense feeling and then, oh then it gets good. That is all I can say.PS. I liked the vampire king, lol. Lips sealed.Recommendation and final thoughts:I am getting my genres mixed again, but anyway this is not straight PNR, it's very UF too so let's call it a mix. There is some ass-kicking, and some romance, and it's a book I would recommend. I really wish I had book 2 next to me. I need more. It's a nice new world that will surprise you.