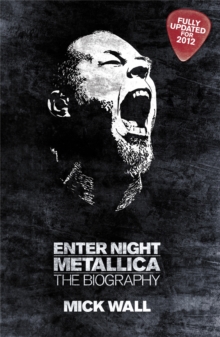 Metallica: Enter Night : The Biography
Paperback
Description
Mick Wall moves on from Led Zeppelin to produce a definitive doorstop on Metallica.Alongside contemporaries Slayer, Megadeath and Anthrax, Metallica came to prominence in the eighties as one of the 'big four' of thrash metal.
Metallica were to thrash, though, what the Sex Pistols were to punk.
Nearly thirty years on, their tale is one of alcohol, rule breaking and tragically early death.
But allied to that are colossal sales figures for their records -- they are the fifth-highest selling recording artists of all time - and members with backgrounds that touch on jazz and classical music.
Metallica, in fact, have garnered more critical acclaim than any heavy rock band since Led Zeppelin.
Fresh from the critical and commercial success of WHEN GIANTS WALKED THE EARTH, Mick Wall takes a similar informed look at the band, a group he has known on and off since their formation in 1981.
Information
Format: Paperback
Pages: 496 pages
Publisher: Orion Publishing Co
Publication Date: 01/07/2012
Category: Heavy Metal music
ISBN: 9781409121671
Free Home Delivery
on all orders
Pick up orders
from local bookshops
Reviews
Showing 1 - 2 of 2 reviews.
Review by timjones
16/06/2015
Metallica are one of my favourite bands, even though I did not discover their music until after they had completed the two mid-1980s albums that in my opinion remain their best work, "Ride the Lightning" and "Master of Puppets". They have had many commercial highs - not always matched by creative highs - since then, but unlike their 1980s peers, have kept on trying to do new things musically even when it would have been easier all round to confine themselves to the nostalgia circuit.Mick Wall's biography of the band is excellent on their early years, and very strong in discussing the influence of the presence, and then the absence, of bassist Cliff Burton, killed in a bus crash in 1987 - but as the years and the albums go by, the book becomes less and less informative. There's a lot more to be gleaned about their 'grown-up' struggles from the "Some Kind Of Monster" documentary, which documents the making of their worst album "St Anger" in a remarkably unsparing and revealing way - the complete opposite of the typical megastar musicians' vanity project - than there is in this book.Still, because 2/3 of the book is so good on the band's early years and on their musical as well as personal roots, it is worth the attention of anyone with a more than casual interest in Metallica and their music.
Review by Garfatron5000
27/08/2015
Love Metallica, not so keen on Mick Wall. Most of the information here is readily available online, its only his personal view you're getting. Still enjoyable reading about the early days of the band, even if it is through Wall's eyes.