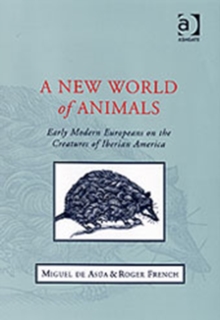 A New World of Animals : Early Modern Europeans on the Creatures of Iberian America
Hardback
Description
Many Early Modern Europeans who during the sixteenth and seventeenth centuries travelled to the New World left written or pictorial records of their encounters with a surprising fauna.
The story told in this book is woven out of the threads of those texts and pictures.
A New World of Animals shows how the initial wonder at the new beasts gave way to a more utilitarian approach, assessing their economic and medical potential.
It elucidates how shifts in European perceptions brought the animals from the realm of the fantastic into the mainstream of early modern natural history, while at the same time changing the way in which Europeans saw their own world.
Indeed, the chronicles and treatises of those who in the wake of the discovery arrived in the new lands tell as much about the particular interests and mental worlds of the writers as about the 'new animals'. This book traces the amazement of the first explorers and colonizers, the chronicles of soldiers and Indians, the 'natural histories of the New World', the place of animals in the network of economic interests driving the early expansion of Europe, the views of the missionaries and those of natural philosophers and physicians.
Taking the reader from the Brazilian forests to the erudite cabinets of the Old World, from Patagonia to the centres of empire, the story of the discovery of the unexpected menagerie of the New World is also an exploration of Early Modern European imagination and learning.
Information
Format: Hardback
Pages: 276 pages
Publisher: Taylor & Francis Ltd
Publication Date: 28/08/2005
Category: History of the Americas
ISBN: 9780754607793
Other Formats
EPUB from £40.49
PDF from £40.49