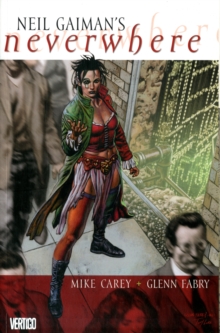 Neil Gaimans Neverwhere TP
Paperback
Description
NEIL GAIMAN'S NEVERWHERE TP Written by Mike Carey Art and cover by Glenn Fabry The comics adaptation of New York Times best-selling author Neil Gaiman's acclaimed novel is now available complete in one 224-page trade paperback!
Collecting all nine issues of the Vertigo maxiseries, this volume follows the adventures of an ordinary Londoner who stops to help an enigmatic girl and is drawn into a battle to save the strange underworld kingdom of London Below from destruction.
Advance-solivited; on sale October 4 - 224 pg, FC, $19.99 US - MATURE READERS
Information
Format: Paperback
Pages: 224 pages
Publisher: DC Comics
Publication Date: 14/02/2007
Category: Comics and Graphic Novels
ISBN: 9781401210076
Free Home Delivery
on all orders
Pick up orders
from local bookshops
Reviews
Showing 1 - 5 of 12 reviews.
Previous | Next
Review by hoshihitogrrl
16/06/2015
This was very interesting. The characters, while not exactly how I had pictured them in my head, are true to the novel. There are slight differences between the adaptation and novel, but the things left out don't detract from the overall story at all. Certainly couldn't be worse than the BBC production. :P
Review by SlySionnach
16/06/2015
Though I still can't figure out why Door's hair has gone from weirdly auburn to black, I still enjoyed this graphic novel. The few changes that are made don't ruin the same magical, otherwordly (or should I say underwordly) quality that the novel had. All in all, it's a great addition to the Gaiman world.
Review by pratchettfan
16/06/2015
A wonderful adaption of Neil Gaiman's novel, even though I have to admit that the characters look quite different than I had imagined them. The story has been abridged with care to fit the shorter comic format and all crucial parts have been retained and the things that have changed do not hurt the flow or principle of the story. A must read for every fan of Neil Gaiman and Neverwhere.
Review by Magus_Manders
16/06/2015
This was a little surprising. I am a big fan of the novel <i>Neverwhere</i>, and love Carey's and Fabry's work, but from the firsts sneak peak I saw of this adaptation in the back of an issue of <i>Fables</i> I felt that I had to avoid it. The image of the characters were too firmly entrenched in my mind, Fabry's imaginings too far off from what I felt was the truth of the story. When a friend of mine essentially hoisted the book upon me in his attempt to clear out his life, I held it at arms length. Indeed, I almost sold it, but stopped to read Carey's introduction. In it, he mirrored many of my feelings about the original story, and about Gaiman's writing in general. He spoke about what a good experience adapting the story had been for him as it allowed him to really take apart a book he loves and see how it works. I went on to swallow my snobish pride and cleanly devoured the thing in a sitting. It left me with much the same feeling of wistful joy that the novel does, and painted a different way to look at the story. True, Fabry made some of the characters a little too comic-book sexy and the supporting cast a sort of <i>Transmetropolitan</i> goofy, but his linework speaks with his particular grit, and Carey did some really wonderful things to make the story flow. This is an adaptation that loses nothing in transition from prose to sequential art, becoming something new just as Carey states in his introduction. My biggest complaint is that the imagery makes my imagination look very low budget.As a side note, I don't think I'm going to sell it tomorrow.
Review by raschneid
16/06/2015
Gooh art, good story. Generally a fun read.<br/><br/>It was difficult to say how good of an adaptation of the Neverwhere novel this was, since it's been years since I read it. So, unfairly, I kept comparing it to the miniseries, which was to some extent disappointing, because I love the miniseries actors so much. However, the charms of the comic rendition grew as I read on. Still, I don't know how much it ultimately added to the world of Neverwhere. There were definitely things it did much better than the miniseries, like the Beast of London, but to some extent I'd just as soon reread the book and use my imagination.<br/><br/>Near the end, though, there were a few themes/concepts that I don't remember from the novel, and which were quite clever, so that was cool.<br/><br/>As far as the art went, generally I really liked it, but did they really have to give Door comic book babe proportions and absurdly skimpy clothing? Otherwise she was very true to the original, but her look just did not seem to fit her character.<br/><br/>Now there's renewed talk of a Neverwhere film, which will bring the number of Neverwhere versions up to four.... I'm excited, but can anyone replace the BBC Marquis de Carabas? Unlikely....