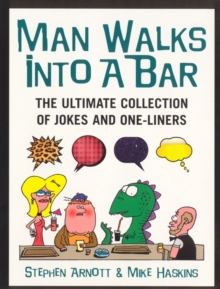 Man Walks Into A Bar : The Ultimate Collection of Jokes and One-Liners
Paperback / softback
Description
Man Walks Into A Bar is a one-stop shop for anyone who likes to hear and tell jokes.
The jokes are ordered thematically - wives, husbands, doctors, lawyers, the French, the Germans, jokes about nuns, jokes about monkeys, the lot.
There are also regular panels which group jokes by type too - Essex girls, changing a lightbulb etc.
Our material will turn you into the toast of your local pub or make you loathed in your own home - remember, it is all in the telling.
From the sublimely erudite to stuff Frank Carson would turn down (the book has a 'world's worst jokes' section), this book can service you with every joke you'll ever need. What do you call an eskimo chav?InnuinnitWhat did the zen student say at the hamburger stand?Make me one with everythingWhat's Irish and lives in the garden?Paddy O'Furniture
Information
Format:Paperback / softback
Pages:576 pages
Publisher:Ebury Publishing
Publication Date:04/11/2004
Category:
ISBN:9780091897659