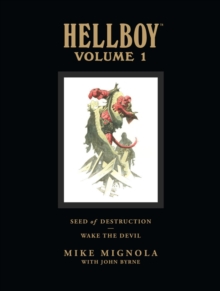 Hellboy Library Volume 1: Seed of Destruction and Wake the Devil
Hardback
Information
Format: Hardback
Pages: 288 pages, 1 Illustrations, unspecified
Publisher: Dark Horse Comics,U.S.
Publication Date: 29/04/2008
Category: Fantasy
ISBN: 9781593079109
Free Home Delivery
on all orders
Pick up orders
from local bookshops
Reviews
Showing 1 - 4 of 4 reviews.
Review by wyvernfriend
16/06/2015
Facinating and interesting. I enjoyed this, I really had never got into Hellboy when I was younger and this was a great chance to familiarise myself with that which the films were based on. Granted it's better but I think they are complimentary.Hellboy combats evil to try to help the world, even though by his nature he is part of evil, apparently.
Review by PolymathicMonkey
16/06/2015
I've seen the Hellboy movies and loved them, but mostly because Ron Perlman is just fabulous (and I also think Guillermo del Toro does amazing work). So it took me a while to decide to pick up the GNs. Not that I thought it'd be bad, but I knew the movie would obviously be at least a bit different, and because it's already been out so long, so many issues waiting, and it's got tons of hype over the years. All that stuff, I tend to shy away from. But I figured, Mignola is pretty good, and now there's these various other Hellboy offshoots and I "can't" read them until I actually read Hellboy, so... it's about time. lol.I enjoyed it. I actually had picked up the first regular volume a month or two ago and liked it, so I thought I might as well go for the massive library editions with their extra content and all. It's fun looking through the old sketches Mignola had before the concepts were fully fleshed out. I like Hellboy and Abe, probably because they're such original characters; quirky, witty, solid, good guys! But no one else has really been in focus much so it's kind of odd; usually even if there's one main character, there's a handful of companions of some sort that you also get to know. It seems like most of the rest just float in & out though. Regardless. I love the bits of history and mythology that are tossed in, added level of interest! Quite glad I finally picked these up.
Review by JonathanCrites
16/06/2015
Excellent Library Edition of this classic creator owned comic. This volume collects the first two trades as well as two original Hellboy short stories. Mignola's art is just so incredible, it is hard to describe. It's almost an impressionistic take on Jack Kirby mixed with uncut Lovecraftian horror. So good. One thing I noticed in the editor notes is that Wake the Devil references The Chained Coffin, a story from the second volume in this series. So this may not be collected in the absolute publication order, but the order of the stories make sense.
Review by -Eva-
27/08/2015
This edition includes "Seed of Destruction" in which Hellboy appears after Grigori Rasputin attempts to summon the Ogdru Jahad to the earth, "Wake the Devil" in which Rasputin's Nazi team attempts to bring back vampire Vladimir Giuresc, and a few sketchbook excerpts. Now this was a lot of fun: intriguing universe, charismatic and mysterious characters, and a storyline that brought me to unexpected places. The art is blocky at first, but after getting used to it, I can't imagine that it could have been done better for the subject matter. I got the "library edition" of this because it's very large and very pretty (and I've heard the glue isn't very good in the paperbacks), but it's so heavy (4+ lbs) that it's a bit hard to read - just a heads-up if you're thinking of buying. I've seen the movie-version of this and liked it, but I think I'll go back for another watch now that I have more background. I preferred Hellboy's appearance in the book, but the movie got a lot of other things right and Ron Perlman was great, so no hard feelings.