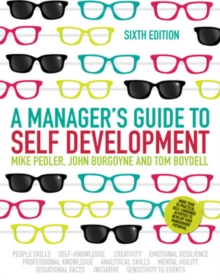 A Manager's Guide to Self-Development
Paperback / softback
Description
"Engaging, innovative and exciting to use in anyone's self development.
The exercises are fun andilluminating, and the pace is fast and energising.
A must read for any manager wanting to be 'thebest'." Prof.
Cary L. Cooper, CBE, Lancaster University Management School, UKA Manager's Guide to Self-Development has become the indispensable guide for building management skillsNow in its sixth and substantially revised edition, this practical self-development guide helps new and experienced managers and leaders to improve their performance, advance their careers and realize their full potential.
It provides: A complete picture of the managerial skills and competencies required from change management to coachingA flexible, self-development programme to do alone, with a colleague, or in a groupPart Two introduces a framework of 11 key managerial qualities.
The diagnostic exercises help you to discover your strength and weaknesses, and identify your goals for self-development.
Key features: Part Three features more than 55 practical activities, with references and follow up activities to help you develop your skills and abilities4 new activities including Planning & Decisions Making, Virtual Leadership, Critical Thinking and Reflective PracticeRadically updated 'Career/Life-Planning Activity' chapter featuring a more personal, self-developmental approachNew 'Trainer's Guide' offering guidance on how to structure sessions and use the activities with groups"This book continues to be the shining light in guiding managers and leaders toward self-development."Dr Gareth Edwards, Bristol Business School, University of the West of England, UK"Fads and fashions in management development come and go but this is an ever-reliable source ofinspiration.
This is a book that puts the power to act in the hands and heads of leaders and managersthemselves."Professor Jeff Gold, Leeds Business School, Leeds Metropolitan University, UK"Ideal for students of Business and Organisational Management at undergraduate and postgraduate levels and is equally suitable for both younger managers in the early parts of their career and experienced managers wishing to refresh their personal qualities after some years of operational experience.
I read the first edition 35 years ago and have seen a generation of managers, trainers and consultants use it to develop successful careers.
It is equally relevant in its new updated form for contemporary managers since it deals with fundamental principles of personal development.
The trainers' guide is an especially welcome addition, as are the new activities."Barry Curnow, Head of Human Resources & Organisational Behaviour Department, University of Greenwich Business School, UK "The book makes an unanswerable case for managers to engage in their own self-development.
Self-managing, in learning and in life, is central to being effective in a whole range of work contexts.
Sheep dip courses continue to proliferate when the evidence is that self-development in work is the key to success.
This guide provides real support for managers to take charge of their own learning and all managers need to pay attention to making it happen."Prof Ian Cunningham, Self Managed Learning College, Brighton, UK"A Manager's Guide to Self-development has been a staple of the Personal Development module on the Executive MBA for some time.
The mature framework and eclectic mix of self-study activities in the book complement the experiential and practical approach to Management Education at Henley.
The changes introduced in the new edition mirror the strong focus on narrative and reflective sense-making, which are important in preparation for the positions of senior leadership our programme members aspire to."Chris Dalton, Henley Business School, UK"This book is an essential purchase for any manager who takes their development seriously.
The practical activities engage the reader as an active learner: it will help managers improve their skills and experiment with better ways of working.
This is a very timely and extended new edition that is highly recommended."Kim Turnbull James, Professor of Executive Learning, Cranfield School of Management, UK"It is with a great sense of privilege that I have been asked to comment on this book.
My introduction to the book was in 1978 and it has become a staple resource for my teaching ever since.
The authors all come from a tradition that recognises only too well that managers learn naturally, yet with the kind of structure, reflection and encouragement to take action whereby the learning process can be significantly enhanced.The book also recognises the fact that developing individuals is inextricably linked to developing organisations and if individuals are to be effective they need to know themselves and develop appropriate skills and attitudes.
The book sets out what these are and recognises that over time they change as organisations change, for example, as 'making contacts' has morphed into 'networking' and 'using power, mentorship and managing change' have crept into the lexicon.
Where originally there were 39 activities related to management development there are now 57.I fully endorse the sixth edition and will continue to use the ideas it contains with my own students."Richard Thorpe, Professor of Management Development and Pro Dean Research, Leeds University Business School, UK
Information
Format: Paperback / softback
Pages: 352 pages
Publisher: McGraw-Hill Education - Europe
Publication Date: 16/08/2013
Category: Management & management techniques
ISBN: 9780077149888
Free Home Delivery
on all orders
Pick up orders
from local bookshops