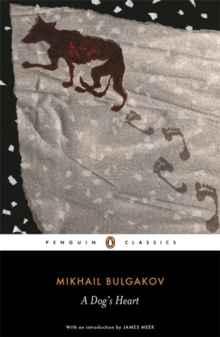 Description
A Dog's Heart: An Appalling Story is Mikhail Bulgakov's hilarious satire on Communist hypocrisies.
This Penguin Classics edition is translated with notes by Andrew Bromfield, and includes an introduction by James Meek.In this surreal work by the author of The Master and Margarita, wealthy Moscow surgeon Filip Preobrazhensky implants the pituitary gland and testicles of a drunken petty criminal into the body of a stray dog named Sharik.
As the dog slowly transforms into a man, and the man into a slovenly, lecherous government official, the doctor's life descends into chaos.
A scathing indictment of the New Soviet Man, A Dog's Heart was immediately banned by the Soviet government when it was first published in 1925: alternating lucid realism with pulse-raising drama, the novel captures perfectly the atmosphere of its rapidly changing times.Andrew Bromfield's vibrant translation is accompanied by an introduction by James Meek, which places the work in the context of the Russian class struggles of the era and considers the vision, progressive style and lasting relevance of an author who was isolated and suppressed during his lifetime.
This edition also contains notes and a chronology.Mikhail Bulgakov (1891-1940) was born in Kiev, today the capital of Ukraine.
After finishing high school, Bulgakov entered the Medical School of Kiev University, graduating in 1916.
He wrote about his experiences as a doctor in his early works Notes on Cuffs and Notes of a Young Country Doctor.
His later works treated the subject of the artist and the tyrant under the guise of historical characters, but The Master and Margarita is generally considered his masterpiece.
Fame, at home and abroad, was not to come until a quarter of a century after his death at Moscow in 1940.If you enjoyed A Dog's Heart, you might like Bulgakov's The Master and Margarita, also available in Penguin Classics. 'One of the greatest of modern Russian writers, perhaps the greatest' Nigel Jones, Independent
Information
Format: Paperback
Pages: 144 pages
Publisher: Penguin Books Ltd
Publication Date: 06/09/2007
Category: Classic fiction (pre c 1945)
ISBN: 9780140455151
Free Home Delivery
on all orders
Pick up orders
from local bookshops
Reviews
Showing 1 - 2 of 2 reviews.
Review by Banoo
16/06/2015
It is said that a dog is man's best friend. But what if that dog was given a human pituitary gland and suddenly turned human, the pituitary gland of a miscreant and a human of coarse behavior, a slightly grotesque human?I'm still not sure why the doctor even bothered giving the dog the testicles of a man unless the doctor already figured out that most thinking stems from the lower regions. The dog did try to use his new testicles but Bulgakov left out the details.I did like the narrative of the dog in the early chapter. <i>Whoo-hoo-oo-hoo-oo-oo!</i> The later shift to third-person narrative was subtle and well handled. And at the end we are brought back to the dog's point-of-view.Bulgakov created a funny tale that was a metaphor, an analogy, a trope tale of Russia in the 1920's. Written in 1925 the book was immediately banned and only published in 1987. And in 1987 the book was still relevant because little had changed in Russia.A fun little read. Now I'm off to lick myself.
Review by DRFP
16/06/2015
As much a piece of early 20th century science fiction as it is a critique of the early Soviet system. Bulgakov's novella has wonderfully light prose, in comparison to so many Russian authors of this era, and his writing shines. Yet whilst it's all very nice and easy to read the story did disappoint me by not being more forceful in its criticisms. Similarly, it's always a positive when a story doesn't outstay its welcome and drag on and on; however <i>A Dog's Heart</i> felt a little too short for its own good. I'm sure much more could have been made of the story had Bulgakov wished. For instance, the characters could have been further developed and the setting mined for greater satire (perhaps this would have happened if the story hadn't been seized before publication?).The result is the novella feels a tiny bit insubstantial. It's very enjoyable and quite an amusing read, but it's one which lacks that little something extra required to really dazzle.
Also by Mikhail Afanasevich Bulgakov | View all