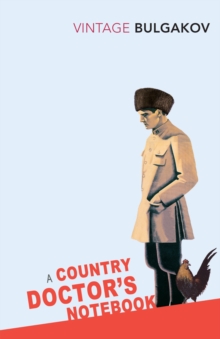 A Country Doctor's Notebook, A
Paperback
Description
This title is translated by Michael Glenny. With the ink still wet on his diploma, the twenty-five-year-old Dr Mikhail Bulgakov was flung into the depths of rural Russia which, in 1916-17, was still largely unaffected by such novelties as the motor car, the telephone or electric light.
How his alter-ego copes (or fails to cope) with the new and often appalling responsibilities of a lone doctor in a vast country practice - on the eve of Revolution - is described in Bulgakov's delightful blend of candid realism and imaginative exuberance.
Information
Format: Paperback
Pages: 160 pages
Publisher: Vintage Publishing
Publication Date: 07/01/2010
Category: Classic fiction (pre c 1945)
ISBN: 9780099529569
Free Home Delivery
on all orders
Pick up orders
from local bookshops
Reviews
Showing 1 - 3 of 3 reviews.
Review by HadriantheBlind
16/06/2015
A set of two short stories, about medical life in the early days of the Soviet Union.<br/><br/>The first - actually a collection of even shorter stories, collected together - details the collision of a young doctor, fresh out of medical school, and the crushing responsibilities of being a physician - as well as being in the middle of nowhere, where electricity and drugs are still strange and mysterious things. Funny and tragic in equal measure. Frank in its honesty, and likely semi-autobiographical. Recalls Chekhov.<br/><br/>The second story, entitled Morphine, is about a different physician's struggle with an addiction to morphine, whose opioid cousins still inflict havoc on the visions and lives of many today. <br/><br/>A fine collection of stories from one of my favorite authors. A quick read, and one that stays with you.
Review by gbill
16/06/2015
Bulgakov was a doctor before he was a writer, having graduated with a degree in medicine from Kiev University in 1916. He spent the next eighteen months in the remote countryside, assigned to the post of chief doctor to the peasants near the village of Nikolskoye. The stories here recount those times, and are brutally honest about the doubts he felt as a young doctor, the fear that cases would come his way that he wouldn't be able to handle, and the need to sneak off and look up information in reference books when they did. Bulgakov was in a primitive environment – 32 miles from the nearest electric light, without all of the right tools, and sorely understaffed. His log showed he attended to 15,613 patients in the first year, and aside from his nurses and assistants, he was largely isolated, with the inherent slowness of travel and lack of a telephone delaying any type of outside communication. Add to all this the brutality of a Russian winter; "The Blizzard" describes almost freezing to death while getting lost in one on the way back home at night.There was an enormous gap between rich and poor in Russia at the time, which as Glenny says in the introduction, had Bulgakov "at the point of contact between two cultures which are about five hundred years apart in time." The peasants had no end to their superstitions, and much has been made of Bulgkov bringing 'light' to the darkness of ignorance. On the other hand, I found it interesting that we look back about a hundred years and see how in the dark Bulgakov himself was. He occasionally describes outdated medical practice (e.g. mercury ointments) and his own chain smoking, mentioning his 50th cigarette of the day at one point, in addition to often not knowing how to handle cases and just having to make best efforts and learn as he went. Overall, though, he's heroic, and it's a very interesting glimpse into life right before the Russian revolution. After Bulgakov moves on to another post, he comes to learn of another doctor's sad descent into heroin addiction, and publishes his diary and notes in "Morphine". I'm not sure if it was fiction or reality, but regardless it's an excellent description of addiction. The book ends in Kiev and the story "The Murderer", about the moral ambiguity of being a doctor to an enemy's wounds, as Kiev began to come under conflict in the revolution. It's interesting to think of this as a seque into his classic book "The White Guard". Quotes:On being a young doctor:"And there was I, all on my own, with a woman in agony on my hands and I was responsible for her. I had no idea, however, what I was supposed to do to help her, because I had seen childbirth at close quarters only twice in my life in a hospital, and both occasions were completely normal. The fact that I was conducting an examination was of no value to me or to the woman; I understood absolutely nothing and could feel nothing of what was inside her.…The pages of Doderlein flickered before my eyes. Internal method…Combined method…External method…Page after page, covered in illustrations. A pelvis; twisted, crunched babies with enormous heads…a little dangling arm with a loop in it.Indeed I had read it not long ago and had underlined it, soaking up every word, mentally picturing the interrelationship of every part of the whole and every method. And as I read it I imagined that the entire text was being imprinted on my brain forever. Yet now only one sentence of it floated back into my memory: 'A transverse lie is a wholly unfavourable position.'"On Kiev:"Ah, what stars there are in the Ukraine. I've been living in Moscow almost seven years, but I still feel drawn to my homeland. My heart aches, I get a terrible urge to board a train and be off. To see the cliffs covered in snow, the Dnieper…there's no more beautiful city in the world than Kiev."
Review by PennyAnne
16/06/2015
A series of short stories inspired by the author's experience of being a newly qualified doctor sent to a tiny, remote hospital in the soon to be Soviet Union. The stories are by turn serious, humorous, interesting, gross - but they all give a feel for what the practice of medicine was like at that time (1916) outside the major centres. Fascinating!