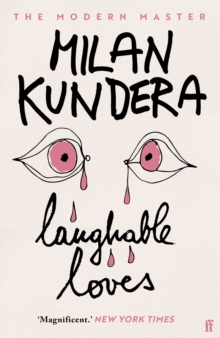 Laughable Loves
Paperback
Description
This collection contains stories about the sport of love - Don Juanism, ageing, male and female power and seductions undertaken for all kinds of intriguing motives.
Milan Kundera is author of The Unbearable Lightness of Being and The Book of Laughter and Forgetting.
Information
Format: Paperback
Pages: 304 pages
Publisher: Faber & Faber
Publication Date: 21/08/2000
ISBN: 9780571206926
Free Home Delivery
on all orders
Pick up orders
from local bookshops
Reviews
Showing 1 - 2 of 2 reviews.
Review by soylentgreen23
16/06/2015
When Auster's three stories were grouped together to form "The New York Trilogy," each one added something to the other. This is exactly the case with Kundera's excellent collection of tales of lust, love, confusion, misunderstanding, and the search for happiness. The spirit of Prague is wonderfully captured, and the whole feels so bohemian and wise. Is it possible to love one person more than another - or to love one book more than another? - and then still love at all?
Review by Samchan
16/06/2015
This collection of short stories was my introduction to Kundera, one of the authors and thinkers about whom I've heard so much but whose work I hadn't yet managed to read. Many people say that Kundera likes to use his stories as backdrops for his philosophical musings, so short stories are much more suited to this aim than novel-length work where he can over-indulge and go on for too long.<br/><br/>The first two stories in the collection were not an auspicious start to my first Kundera experience. One of the stories focuses on a guy whose practical joke, if you will, goes a bit awry, and the other one introduces us to a man and an older woman who meet on the street years after their one-time fling. I liked nothing about them. The language seemed automaton-like, unnatural and not poetic at all. The stories themselves didn't seem to have much of a point and were boring. I couldn't detect any sharp psychological analysis that people kept saying Kundera was known for. <br/><br/>The only reason I kept on reading instead of abandoning it was because it moved fairly quickly, and I held out hope that maybe the other stories would be better. Good thing I did so. Starting with the third story and onward to the last one, the stories seemed to liven up for me. I'm not sure if this was because I gradually got used to Kundera's style; maybe it really did just have to do with how specific stories resonated more with me. Sure, the language was still pretty average, but the ideas behind the stories tickled my brain and I found myself flipping page after page, smiling as each character demonstrated their foibles, played mind games on each other for kicks, deluded themselves away from certain truths, or awakened to how the effects of aging were disrupting their sense of self. Kundera is able to articulate/capture people's psyche in such a precise way that a light bulb kept going off in my head.<br/><br/>So in the end, enjoying five out of seven stories is a pretty good record for a short story collection. Overall though, if this is indicative of Kundera's style, then my reading preferences and his style aren't quite a good fit. But I'm glad that I dipped into a bit of his work at least.<br/>